Three Ways Small & Medium-Sized Enterprises Can Compete for Talent
Today, the World Economic Forum released the newest edition of their Future Readiness report which delves into the primary challenges and opportunities facing Small and Medium-Sized Enterprises (SMEs). The report highlights three "future readiness pathways" in which SMEs can overcome pressing challenges by focusing on their competitive advantages: digitalization, sustainability, and talent management. 
Talent management has been a growing area of conversation in the small and growing business sector in the past decade as smaller firms report difficulties competing with larger companies for skilled employees. The ManpowerGroup estimates that 75 percent of companies struggled to access the talent they needed in 2022, with a shortage of both technical skills as well as soft skills such as problem solving and adaptability. 
While this talent shortage is grabbing headlines across the globe, most available guidance is designed for and directed to large companies. Less is known about SMEs, their particular talent needs, and the strategies they can employ to compete with larger, more well-known firms. The Forum report is unique because it consolidates the existing evidence that speaks specifically to the talent needs of SMEs. 
"There are some clear advantages to operating on a smaller scale when it comes to recruiting and retaining talent," said ANDE's Director of Research and Impact, Abigayle Davidson, a lead author of the report. "While SMEs struggle to match compensation levels offered by large companies, there are several ways that smaller firms can play to their unique strengths to attract high quality talent." 
The report posits that the following strategies can give SMEs and mid-sized firms a competitive edge in the labor market:
Align strategic goals with the profiles of those you aim to hire and promote.

While human resources has been a topic of study for decades, more recently experts have been homing in on the concept of

talent management

which prioritizes skilled employees as part of a company's core strategy. By considering talent acquisition a strategic management decision rather than an HR responsibility, SME leaders can position their company to meet upcoming demands and move to the next stage of growth.

Play to your strengths, particularly organizational culture and the benefits of informality. While SMEs struggle to compete with large companies in many objective measures of job quality such as wages and predictability, SMEs often score higher in self-reported worker satisfaction. This is at least in part driven by the sense of purpose experienced by SME employees who have greater access to and voice with management. By prioritizing a healthy and engaging organizational culture, companies can not only attract high quality talent, but can ensure that their employees exemplify the values they wish to embody. For example, medium-sized Brazilian tech company Omie, featured in the Forum report, points to the organizational values the management team identified early in their scaling journey, such as trust and perpetual learning, as one of their primary tools for recruitment and retention. Likewise, the roughly 60 employee Kenyan company Sanivation, which develops sanitation solutions for secondary cities, retains an open-door policy with top management to express their value for ideas from all levels of employment.
Prioritize upskilling and upward mobility. Recruiting for skilled talent is time consuming and resource intensive, whereas internal promotions can save time and improve employee commitment and wellbeing. SMEs should determine growth pathways for all employees – including those interested in lateral moves – and identify where specific training can prepare employees to advance. Intermediaries such as accelerators and business consulting services play an essential role in guiding entrepreneurs in how to use training and peer-learning as advancement techniques for both employee and company.
Key actors in the global entrepreneurial ecosystem have developed helpful resources that point to best talent practices for SMEs and intermediaries.  Below is a list of resources with practical guidance for SMEs at various stages of growth: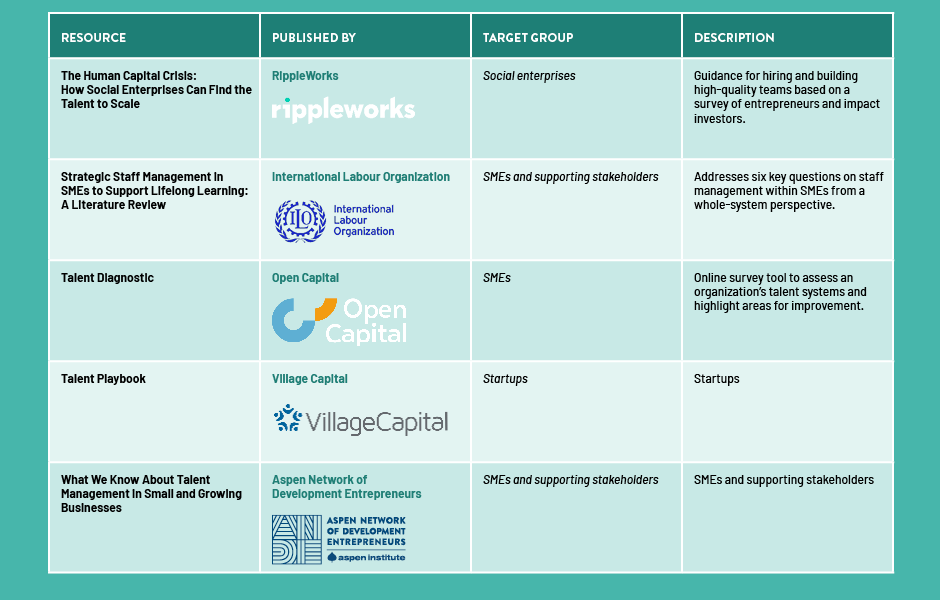 To learn more, read the World Economic Forum report Future Readiness of SMEs and Mid-Sized Companies: A Year On and explore ANDE's resources on Decent Work.
Resource Links: