ANDE's Latest Research Maps the Market Potential for Green SGBs in India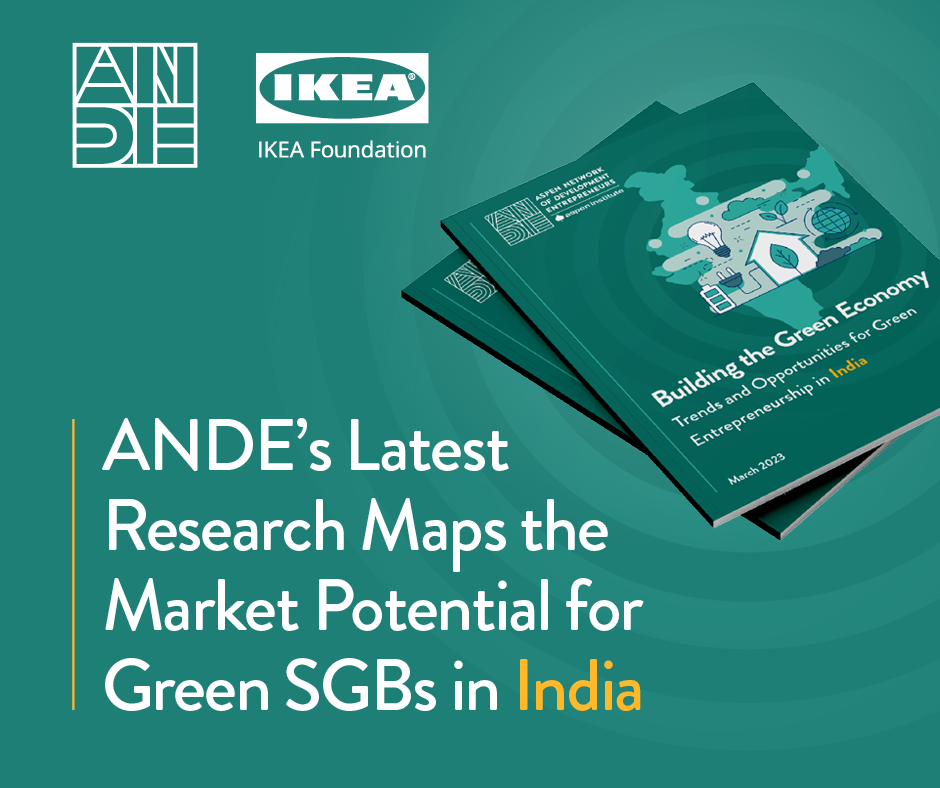 ANDE's latest report, "Building the Green Economy: Trends and Opportunities for Green Entrepreneurship in India," aims to support small and growing businesses (SGBs), intermediaries, policymakers, and investors in their contribution towards India's Sustainable Development Goals (SDGs). The research, developed with support from the IKEA Foundation, showcases the state of green entrepreneurship in India and explores key themes across eleven sectors, including sustainable agriculture, renewable energy, sustainable transportation, and more. The report also includes deep dives into key sector business models, case studies of successful ventures, examples of entrepreneurship service provider support, and an overview of key challenges and opportunities for stakeholders in the Indian ecosystem.  
Some of the key highlights from this research center around the market opportunity of the green economy in India. Green entrepreneurship in India presents a US $ 3.46 trillion market opportunity for SGB-active business segments. Analyzing sector by sector, the most significant market potential lies with green buildings (US $1.04 trillion), waste management and circular economy (US $823 billion), and water management (US $769 billion).
ANDE also released an Entrepreneurial Ecosystem Snapshot Report, which examines the ecosystem of support for green entrepreneurs in India. The snapshot report explores the types of support available to green entrepreneurs, such as investment, capacity development, and impact measurement. This interactive webpage complements the report with a filterable directory of 140 organizations supporting green entrepreneurs in India, categorized by sector, location, and support type.
Additional findings from these studies include: 
Sustainable agriculture stands out as a sector with both significant traction and sizable opportunity in the Indian market.

The market opportunity for the sustainable agriculture and aquaculture sector is estimated to be about US $434 billion between 2022–2030, which comes as no surprise given that agriculture is the backbone of the country's economy, employing

about 60%

of the Indian population. 
Sectors receiving insufficient levels of support for SGB growth – despite their market potential – are waste management and circular economy, water management, and green buildings

. This is alarming considering that the largest market opportunities lie in these three sectors: US $1.04 trillion for green buildings, US $823 billion for waste management and circular economy, and US $769 billion for water management. Not only do these sectors need more total investment, but they also need it from diverse stakeholders. For instance, the major funding for the waste management sector stems from development finance institutions. However, their focus is concentrated on sanitation and the treatment of liquid waste, which is a small segment of the sector. Without funding flowing into every corner of the sector, the market potential will remain untapped for many business segments.
Despite the prevalence of investors and availability of financial support, access to finance remains the number one challenge for green SGBs , according to support organizations.

Nearly three-quarters of surveyed support organizations reported limited access to finance or growth capital for green SGBs  as a significant challenge. However, the issue is not the lack of financial support providers, as nearly 70% of surveyed support organizations offer return-seeking investment or other forms of financial support. Rather this challenge reflects a mismatch in the type of capital available and the needs of early-stage green entrepreneurs, with ticket sizes often above the range needed by idea and seed-stage ventures.
The green entrepreneurial ecosystem in India is mostly steered by local stakeholders, and this is accompanied by the ecosystem's relatively low dependence on grants.

About 70% of stakeholders in the green entrepreneurial ecosystem in India are local organizations headquartered in the country, and the reliance on the international donor community is relatively low. Therefore, equity and debt are more predominant forms of financial instruments in the ecosystem rather than grants. 
Surveyed stakeholders identified increased environmental awareness as the most significant improvement in recent years.

This progress likely reflects the Indian government's recent major policy shift towards climate change actions, such as the country's updated

Nationally Determined Contribution (NDC)

. The government's push boosts public awareness and can create positive momentum to increase the uptake of environmentally friendly products, such as organic fertilizers and produce.
About 80% of surveyed support organizations in India align their goals with the SDGs, most commonly SDG 13 on climate action.

However, measuring their impact remains a challenge due to limited capacity and expertise as well as the cost of impact measurement. The ecosystem can address this problem by sharing information and organizing collaborative learning opportunities on best practices in impact measurement.  
Despite the challenges, successful businesses are emerging.

ANDE's new report features five green ventures in India:

A2P Energy Solution

,

Bamboo India

,

Tadpole

,

Indra Water

, and

Carbon Craft

. These SGBs have varied success factors, indicating the possibility of multiple growth trajectories for Indian green enterprises. However, one common theme among them is an emphasis on strategic marketing, advertising, and customer service.
The many billions of dollars of market opportunity showcased in these 11 sectors makes a case for the role SGBs can play in both India's economic growth and reaching its sustainability goals. To learn more about ANDE's activities in India, please visit https://andeglobal.org/india.