Member Spotlight: GameChanger Law Advisors (GLA)
From its global newsletter to its major annual events, ANDE members have access to a multitude of platforms for promoting their work and co-creating knowledge with other members. The ANDE Member Spotlight is a series of short, interview-based blog posts highlighting an ANDE member organization and any new projects, recent investments, or ongoing research with interesting learnings that add value to the ANDE community.
ANDE spoke with GameChanger Law Advisors (GLA) founder Amrut Joshi to discuss how GLA is ensuring that good corporate governance standards remain at the forefront of the agenda of boardrooms all over the world, helping those companies contribute to sustainable development in the geographies in which they work.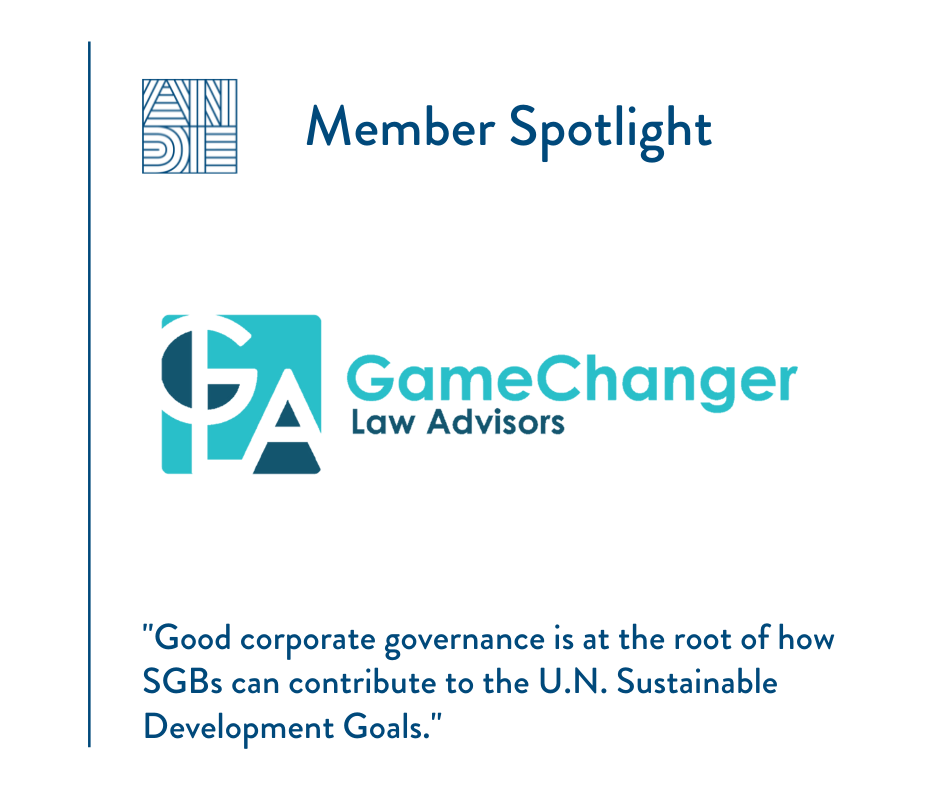 What role does your organization play in the SGB ecosystem?
GameChanger Law Advisors (GLA) is a boutique corporate law firm founded in October 2011. It has been quite the journey since then, with innumerable ups and downs and lessons learned. We are a first-generation law firm, and we are proud to have completed 10 years of operations last fall! What started out as a solo practice is now a team of experienced lawyers spread out across India. My team provides quality legal advice on Indian corporate and commercial law to clients situated all over the world. We are qualified to practice law only in India, but we work with international clients and assist them on their requirements within India. We tailor our practice on being modern and progressive – and that is our niche.
Our practice areas include advising clients on commercial contracts, corporate law, employment law, FDI/foreign trade, intellectual property, and venture capital/M&A transactions. Over the last 10+ years we have worked extensively with SGBs operating in the technology, media & telecom (TMT), sports, entertainment and gaming (SEG), and social enterprise and impact investing ecosystems in India. The choice of practice areas and industries really reflect the times that we live in. Each of these industries reflects a desire to be involved in some of the most cutting edge and challenging issues faced by Indian organizations.
We also work closely with several technology business incubators, accelerators, and enablers, such as Stanford Seed, The Indus Entrepreneurs (TiE), and the German Indian Startup Exchange Program (GINSEP). And we are proud to be members of ANDE and the Asian Venture Philanthropy Network.
What are you currently working on?
We recently advised a family business in Ethiopia on Corporate Governance Frameworks as a part of the Seed Transformation Program – Corporate Governance project. Involvement in this project strongly recognizes the interconnectedness of the world and proves that opportunities are immense when collaborations happen across jurisdictions. When working with global clients, there is a great amount of exposure to the cultures, business environments, and standards that they are bound by and operate under. Consequently, a lot of these practices are transplanted from one environment to another – but always with mutual respect and the awareness that assurances are needed to attract and retain foreign investors and create a level of comfort and understanding when working across jurisdictions. And this means ensuring that globally accepted governance standards, employment policies, gender equity, and diversity, equity, and inclusion (DEI) policies are adopted by client organizations in the host country – which is usually the case with more progressive organizations. These objectives are directly aligned with what ANDE represents.
Over the past six months, my colleagues and I have worked extensively on this project. We've had multiple conversations with representatives of this family business, researched best corporate governance practices recommended for family businesses in various other regions of the world, and submitted a set of recommendations for the consideration of the Board of Directors of this family business.
Looking forward, what are you the most excited about?
The Corporate Governance Project has provided us with empirical evidence that while as lawyers, our ability to shape the law in jurisdictions other than those where we are licensed to practice may be limited, there need not be any such limits in engaging with businesses on broader corporate governance issues.
Our research indicated that the underlying reasons for corporate governance issues or failures across the world are largely the same. While country-specific laws vary, progressive organizations across the world can and will build corporate governance frameworks that go beyond such legal/reporting obligations and ensure that they can be benchmarked favorably against their peers across the world!
What elements of this platform tie into ANDE's urgent issues?
One of the corporate governance reports that we studied during the course of our research indicated that companies with corporate crises fueled by governance deficits underperformed their sectors by an average of 35% a year after the incident, losing approximately US $490 billion in shareholder value. Two years after experiencing the corporate crisis, companies lost approximately $250 billion of shareholder value, and underperformed in their sectors by an average of 45%,. That is a staggering amount when looking at wealth generation, wealth preservation, and wealth deployment to solve global challenges.
ANDE's mission is to be a global network of organizations that propel entrepreneurship in developing economies, based on the conviction that SGBs will ultimately and can help lift countries out of poverty. To do so, SGBs must do everything possible not only to avert corporate governance failures that have real and significant economic costs, but also proactively pioneer modern corporate governance practices. And this is also in their self interest as well.
Corporate governance can be a lot about abusive workplace culture, financial mismanagement, poor business management – tying into ANDE's focus on decent work, but also connected to other critical issues for social businesses trying to address education, healthcare, access to technology, gender equality, and climate change. In sum, good corporate governance is at the root of how SGBs can contribute to the U.N. Sustainable Development Goals.
How have you leveraged your ANDE membership, and how other ANDE members can engage with you?
Our reasons for joining ANDE are manifold. We have been engaged with the ANDE India network for more than two years now and have conducted several knowledge-sharing sessions on varying legal and governance issues that are of relevance to SGBs and social enterprises in India.
We believe that we can collaborate with other ANDE members to advocate legal, governance, and policy change on specific issues such as climate financing and implementation of gender diversity and DEI policies at workplaces–all of which are areas that are of interest to the ANDE community globally and call for collaboration among the network. We'd be happy to engage with other ANDE members to achieve these objectives in the days ahead!