#ANDEDecentEntrepreneurship: An Interview Series Exploring the Implementation of DEI in ESOs and SGBs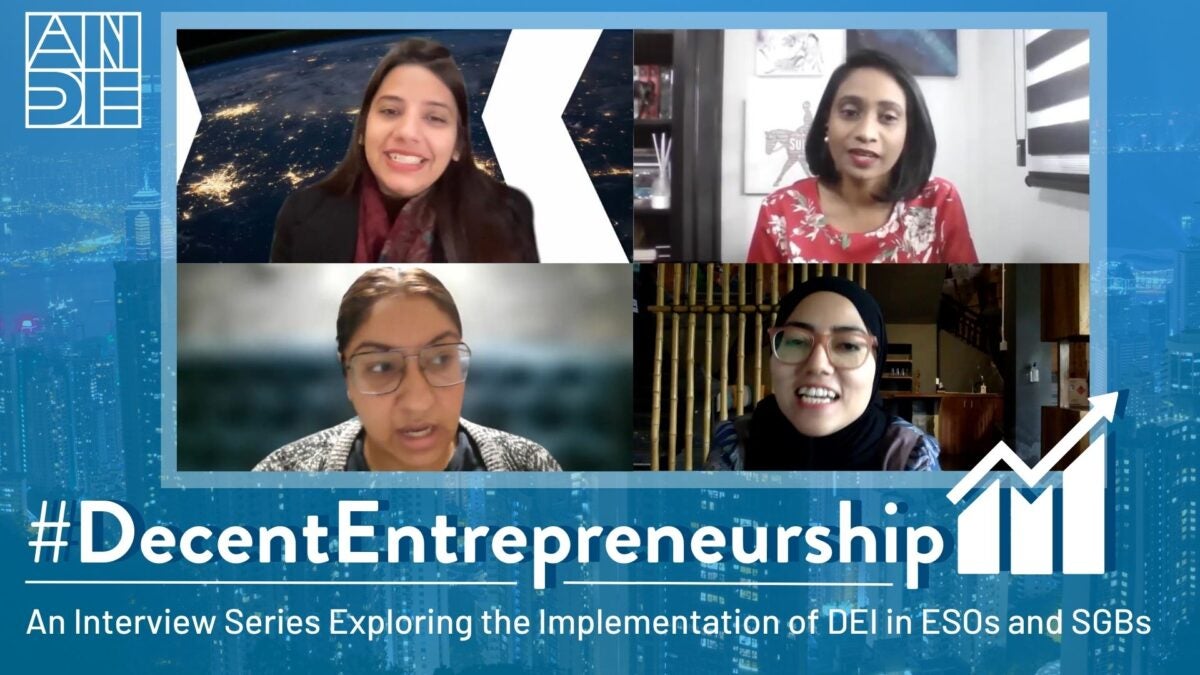 Diversity, equity and inclusion (DEI) is a term used to describe programs that promote the representation and participation of different groups of individuals, including people of different ages, races and ethnicities, abilities and disabilities, genders, religions, cultures and sexual orientations. This also covers people with diverse backgrounds, experiences, skills and expertise. According to the ANDE Issue Brief (2019) on Decent Work and Economic Growth in the SGB Sector, Small and Growing Businesses (SGBs) are critical to the achievement of Sustainable Development Goal (SDG) 8: Decent Work and Economic Growth. Whilst revenue and job creation are important indicators of growth, it is also important to measure the success of SGBs by job quality. Maintaining employee motivation, productivity and well-being ultimately translates to community development. The #ANDEDecentEntrepreneurship Interview Series presents strategies that Entrepreneurship Support Organizations (ESOs) and SGBs in the East and Southeast Asia region can use to create a fair and engaging workplace.
Thank you New Energy Nexus, Sambodhi Research and Communications Pvt Ltd., Kopernik and raiSE for participating in this communications series.
Introduction to Series
We spoke to Shivani Singh about how New Energy Nexus' commitments to living up to JEDI (Justice, Equity, Diversity and Inclusion) objectives and how positive friction within the team gives them space to share their thoughts and ideas.
Akashi Kaul encourages seeing DEI implementation as a process rather than a goal. She emphasizes that conversations about inclusivity and equity may be uncomfortable but will be essential to collecting the most appropriate diversity metrics for your organization.
We enjoyed talking to Nanda Riska about how a diverse team gives more value in reaching objectives as this leads to more nuanced insights and unexpected findings. All representatives of a community should be taken into account.
Subashini Balakrishnan talks to us about raiSE's mission to support differently-abled people. She highlights the importance of creating a support system and environment that is conducive and suitable for them to thrive.
Thank you for supporting the #ANDEDecentEntrepreneurship Communications Campaign! We looking forward to implementing and sharing all the key insights on DEI that we have learnt from these organizations.