Climate and Environment Action Lab
ANDE Action Labs convene members to ideate and prototype solutions to systemic challenges in the SGB sector. This group is ANDE's inaugural laboratory for tackling constraints specific to SGBs and the intermediaries that support them in environmental industries.
The ANDE India Chapter's Climate and Environment Action Lab will involve a series of virtual engagements to convene SGB sector practitioners and spark actionable collaborations at local and global levels of engagement and promote experimentation around solutions to systems-level challenges obstructing progress for ANDE members in achieving SDGs 6, 7, and 13.
The ANDE India Action Lab is a practitioner-led working group that uses design-thinking methodologies to discuss, debate, collaborate and solve climate entrepreneurs' systemic challenges. The Action Lab seeks to push sector participants from discussion to action by putting new or not-yet-implemented solutions into practice. The Action Lab can focus on a number of potential promising solutions that can be tested in the given time frame with the available resources and connections. The end-point is fundable pilot project proposal(s) backed by evidence, supporting the hypothesis that the approach will succeed.
This Action Lab is part of the larger ANDE India Climate Action and Environment Learning Lab that aims to act as a platform for intermediaries who are working to support entrepreneurs and innovators in tackling environment-related issues and climate action, with the overarching goal of increasing on-ground entrepreneur support. 
The Lab was active from June 2021 to March 2022 with the following participants.
| | | |
| --- | --- | --- |
| Organisation Name  | Person | Designation |
| Villgro Innovations Foundation | Ananth Aravamudan | Senior Lead, Climate Action |
| Enviu | Gigi Matthews / Partha Talukder | Country Director/ Venture Builder |
| Climate Collective | Pratap Raju/ Amartya A | Founding Partner/ Climate Tech VC |
| Green Artha | Starlene Sharma | Co-Founder and Managing Partner |
| Climate Finance Initiative (now part of Unitus Capital) | Simmi Sareen | Co-Founder (CFI) and Director, Unitus Capital |
| WRI | Ulka Kelkar | Director, Climate Program |
| GIZ India | Jai Kumar Gaurav/ Ashish Chaturvedi | Senior Adviser (Climate Change and Circular Economy) |
| Social Alpha | Smita Rakesh | Portfolio Director, Clean Energy & Climate Action |
| Sustainability Mafia | Anirudh Gupta | Founding Director |
| WWF | Vidya Soundararajan/ Akshay Pandey | Advisory Consultant Climate Finance/ Sr Programme Officer |
| Caspian | Sanjoy Sanyal/ Akshay Saini | Senior Adviser/ Associate, Investments |
| Intellecap | Santosh Singh/ Prachi Seth | Director & Head, Climate Change, Energy and Agriculture / Associate Vice President |
After undergoing a collaborative design-thinking process, the participants decided to focus the Action Lab solution creation efforts on the lack of early stage risk capital. The Action lab split into two design teams that worked on innovative approaches to bridging this financing gap and catalyzing more investments and funding into the climate and environmental entrepreneur ecosystem.
The two solutions are:
1. The Climate Seeders Club is an early stage climate tech startup focused investment syndication platform for retail investors looking for an alternative investment class with climate impact.
Lead Implementing Partner: New Energy Nexus and Climate Collective (supported by Climake and Enviu)
2. Outcomes eXchange (OX) is a Results-Based Climate Finance platform catalyzing funding for a more inclusive range of outcome-focused initiatives and Producers across sectors in the green transition. Its over-the-counter market design & technology infrastructure increases affordability and capital efficiency by matching Buyers & Sellers via mutual consent.
Lead Implementing Partner: Green Artha (supported by WWF India)
ANDE staff contacts: Saipriya Salla and Sucharita Kamath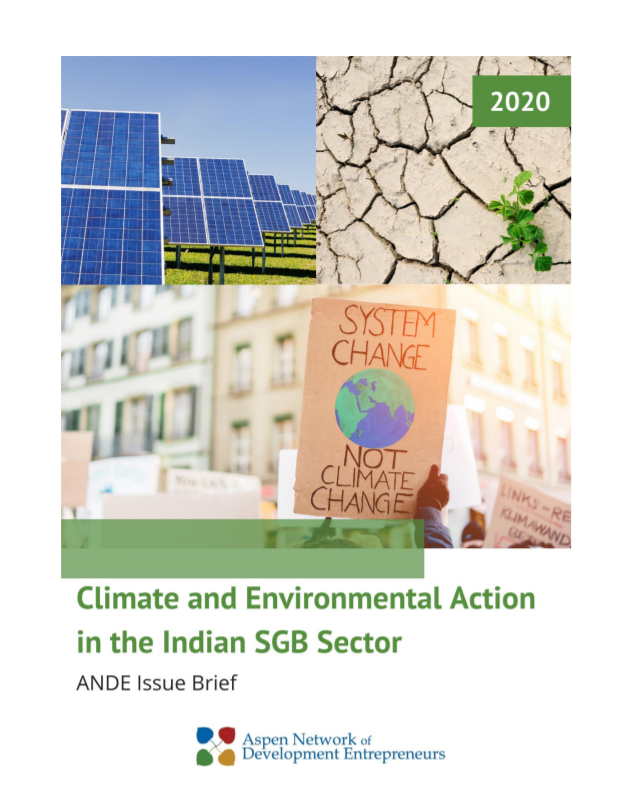 Featured Resource
Climate and Environmental Action in the India SGB Sector
This brief aims to contextualize the findings and strategy regarding ANDE's key urgent issues and the SGB sector as outlined in ANDE's globally focused issue brief, Climate and Environmental Action in the SGB Sector. The brief is meant to serve as a starting point for conversations on environmental action, and was developed in partnership with Villgro Innovations Foundation, Enviu and Green Artha.