SA Township Economies Learning Lab
We are excited to announce that we will be hosting ANDE's Township Entrepreneurial Ecosystems Learning Labs in South Africa.
Start Date
April 21, 2023
Location
Johannesburg, South Africa
Strengthening Township Economies via Entrepreneurial Ecosystems in South Africa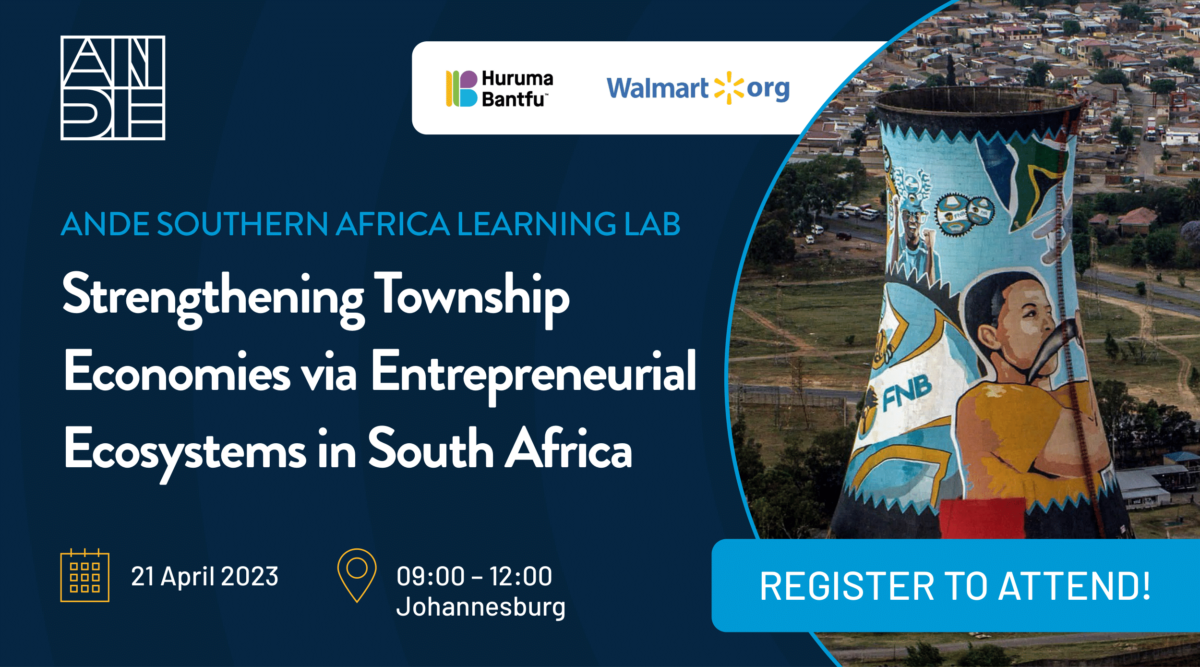 Following the momentum and success of the 2021 Entrepreneurial Ecosystem Snapshot, ANDE in partnership with the Walmart Foundation is delighted to be hosting Learning Labs focusing on strengthening township economies in South Africa.
Background
As ANDE developed the 2021 South Africa Township Ecosystem Snapshot, it became clear that despite a significant number of entrepreneur support organizations creating dedicated programming to support these entrepreneurs, there is a clear lack of evidence on how to best support these entrepreneurs and what types of entrepreneurial support programming can help alleviate barriers and help these businesses grow.
ANDE aims to expand on the evidence base on Township entrepreneurships in South Africa, and to advocate for additional support based on the available evidence on how to strengthen Township ecosystems effectively. With support from the Walmart Foundation, ANDE will offer Learning Labs aimed at supporting the development of township-based organizations providing support to SGBs in these contexts that will address key challenges to the quality and effectiveness of services provided. In this Township Economies Learning Labs, local entrepreneur support organizations will be not only the beneficiaries of the series of convenings (as one would expect in any capacity building initiative), but also the local voices that will be raised and connected with key stakeholders, promoting greater sector integration and ensuring that their local perspectives inform future initiatives and policies.
ANDE will design a 3-month learning journey for accelerators, incubators, and other service providers located in township economies with monthly 2-3 hour meetings.
Specific themes to be addressed in the Learning Lab include:
Investor Readiness
Business Development
Impact Measurement and Management including a gender and climate lens
Fundraising
Digitalization
Access to markets