Ethics 1st Learning Lab Series
Many countries across the African continent lack robust anti-corruption laws or policies, as a result, businesses often lose out on foreign investment opportunities and face higher operational costs. From underhanded fundraising practices to gender discrimination, entrepreneurs in developing economies must overcome dishonest dealings at many levels to thrive and tackle the low rate of investments inflows in Africa. 
It is against this backdrop that the Center for International Private Enterprise (CIPE) developed Ethics 1st, an innovative platform created to connect companies to corporate governance, business integrity and compliance capacity building at scale, with the aim of providing businesses with premium opportunities for growth and investment by global investors and partners.
ANDE West Africa is pleased to be collaborating with CIPE to host a series of Ethics 1st Learning Labs in 2023. The Learning Lab is a series of convenings that will examine the Ethics 1st processes, its benefits , challenges and collate feedback from participants on how to improve the Ethics 1st process for better penetration. The ultimate aim of the Labs is to learn and improve the Ethics 1st process so that it can be fully functional.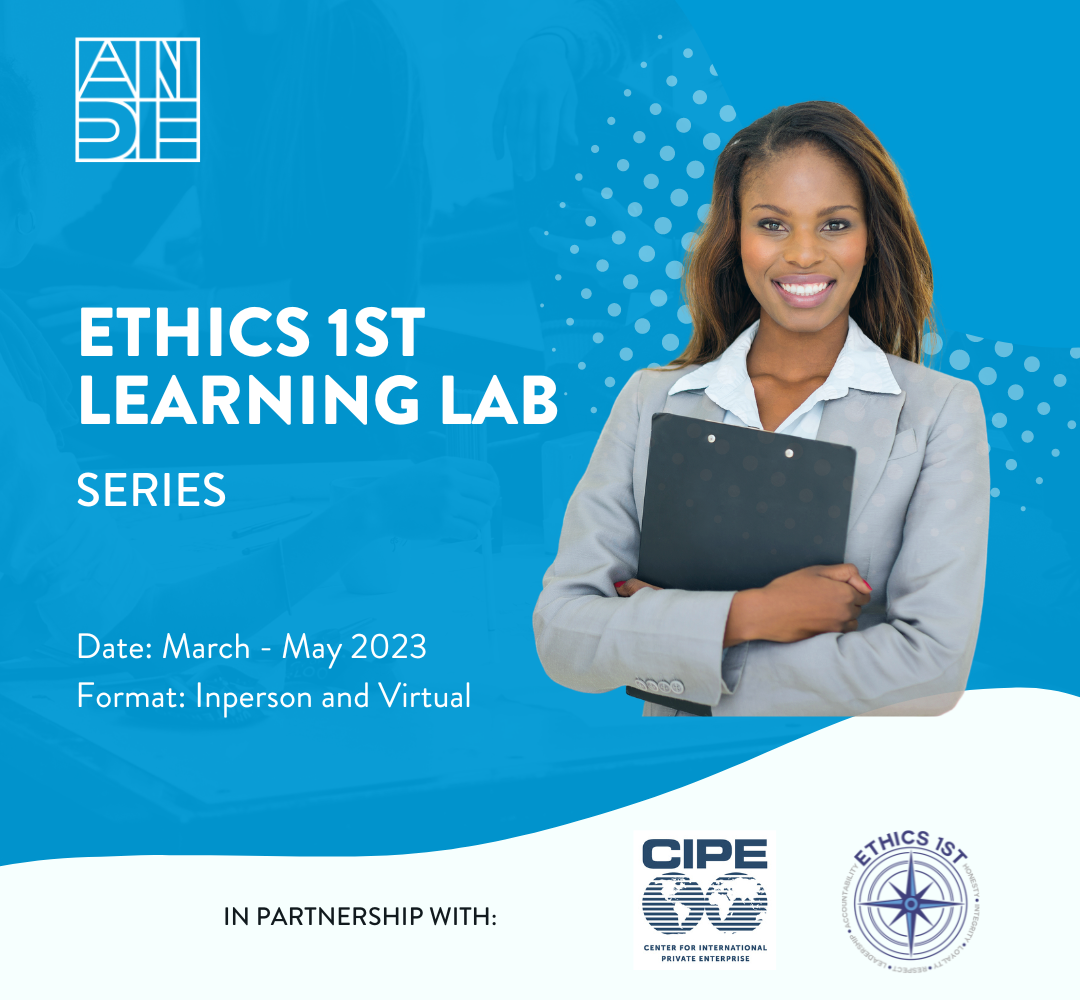 What is Ethics 1st?
Ethics 1st offers companies a pathway to improve their risk management and corporate governance systems to increase profitability and reduce opportunities for internal misconduct and fraud.
Ethics 1st reduces the cost of compliance with governance and risk management standards for African Businesses, facilitating their trade and integration into global value chains

Derisks investment and third party sourcing in Africa at scale, creating sustainable growth potential for investments in the region and for African economies one business at a time

Free to access digital application that simplifies KYC and due diligence for SGBs that demonstrate measurable commitment to business integrity

Build global recognition and gain trust with global investors and business partners 
Ethics 1st Learning Lab
By signing up and fully participating in the series of learning labs, you would get first hand experience on how to navigate the process of  signing up for Ethics 1st and an opportunity to become an Ethics 1st Champion to SGBs and the West Africa Entrepreneur Ecosystem at large. This series of Learning Lab is open to both ANDE Members and Non Members. Kindly note that this is a call for applications!
Upcoming Sessions
Please be informed that by signing up for the Learning Labs, you will be required to attend all the sessions and share feedback on the process.. The scheduled dates are as follows:
Completed
1. 7 March, 2023 | In person  | Lagos Cohort
Upcoming Sessions
1. 27 April, 2023 | Virtual | Ghana Cohort
2. May 2023 | In-person | Ghana
Participation is Free!