Championing Inclusive Entrepreneurship – Strategies and tools to empower young social entrepreneurs from all backgrounds
Start Date
September 21, 2023
Time
14:30 - 16:00 (GMT+7)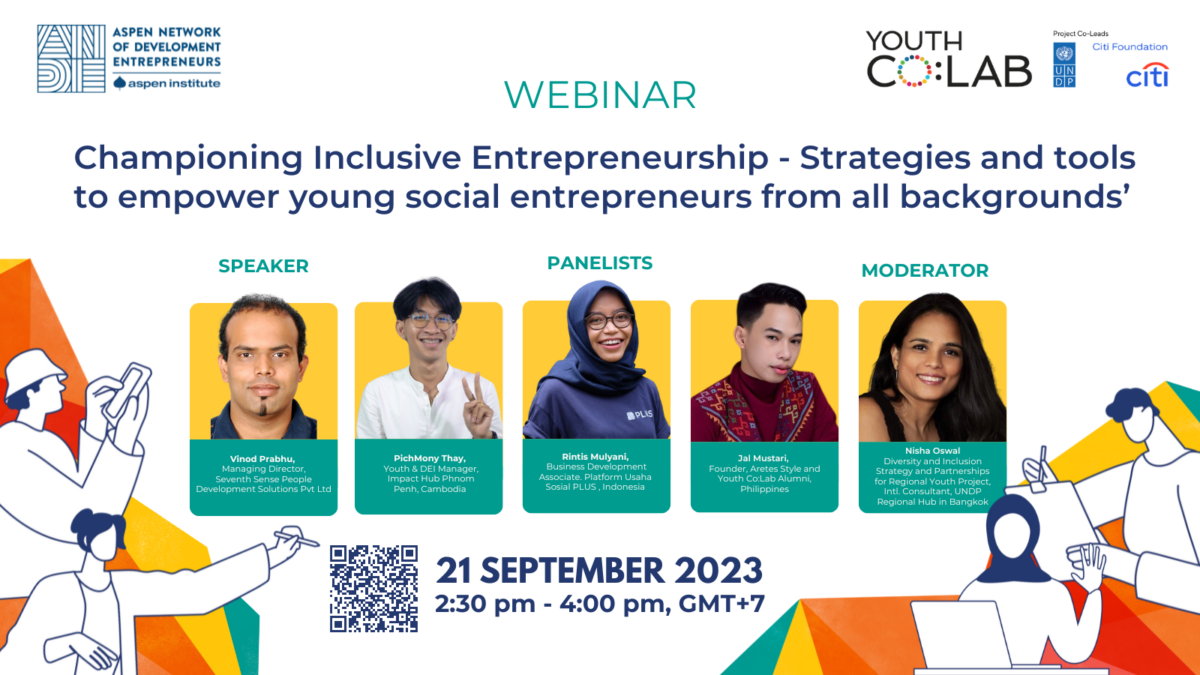 You are cordially invited to join a knowledge-sharing session on 'Championing Inclusive Entrepreneurship – Strategies and tools to empower social entrepreneurs from all backgrounds', co-hosted by ANDE East and Southeast Asia, ANDE India, and Youth Co:Lab, an initiative co-led by UNDP and Citi Foundation.
The session will highlight Inclusive Entrepreneurship, centered on empowering communities or groups left behind due to various factors by leveraging entrepreneurship as a means of sustainable livelihood. Following the launch of the Inclusive Youth Entrepreneurship Guidebook for Entrepreneur Support Organizations in Asia and the Pacific, the session aims to equip Entrepreneur Support Organizations (ESOs) with knowledge and resources to develop inclusive and equitable entrepreneurship support initiatives to give every entrepreneur equal opportunities to thrive and succeed in their endeavors.
This session is a part of ANDE Asia Talent Development Series, and if you have any topics you are interested in learning more about, please contact Ploy at ploy.phong@aspeninstitute.org.