Strengthening South Africa's Youth Entrepreneurship Ecosystem Learning Lab
The aim of this workshop event will be to hear from youth entrepreneurs and ecosystem actors about concerns, aspirations, and practical recommendations for how we can better serve youth entrepreneurs
Location
Johannesburg, South Africa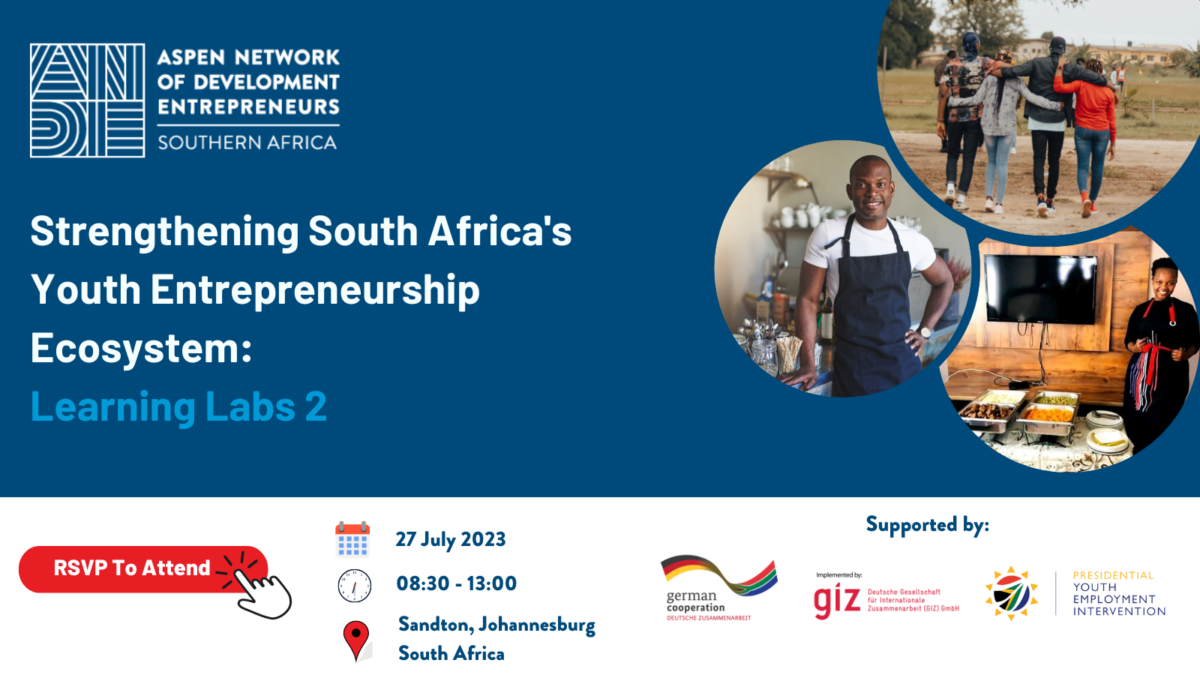 ANDE, together with the Deutsche Gesellschaft für Internationale Zusammenarbeit (GIZ) GmbH in conjunction with the Office of the Presidency will be conducting research to explore the state of youth-led businesses in South Africa's townships and to determine support available to these businesses and the impact of entrepreneurial firms on youth employment. This research will culminate in a final report, including all findings with emphasis on recommendations, actions, and next steps for the ecosystem.
On Thursday, 27th July 2023, ANDE and partners will host the Strengthening South Africa's Youth Entrepreneurship Ecosystem Learning Lab workshop.
The aim of this workshop event will be to hear from you – the young entrepreneurs and ecosystem players – about your concerns, dreams, and practical recommendations for how we can better serve our young entrepreneurs in townships. This event will therefore be a highly interactive session. The session will include a presentation on key research findings, before facilitated plenary discussions and breakaway group engagement. This format will allow for key insights and critical recommendations to be raised and explored in a collective and consultative manner.
Examples of key questions to be addressed during this Learning Lab workshop session include:
Do youth in South Africa face similar entrepreneurial challenges to other entrepreneurs?
Is age a barrier to accessing entrepreneur support resources? If so, how can we overcome such barriers?
Does youth entrepreneurship in townships drive different outcomes compared to traditional entrepreneurship, with regards to, for example, gender equality, digitalization and climate action?
How do young entrepreneurs in townships engage with the market, either within or outside of the townships?
What sectors or industries are better suited for sustaining and scaling township-based, youth-led businesses, and why?
Are there financing models tailored for township based, youth-led businesses? How successful are these models, and what are the barriers to this type of financing?