ANDE Impact Measurement and Management 101 Training in Cambodia
Start Date
December 6, 2023
Location
Phnom Penh, Cambodia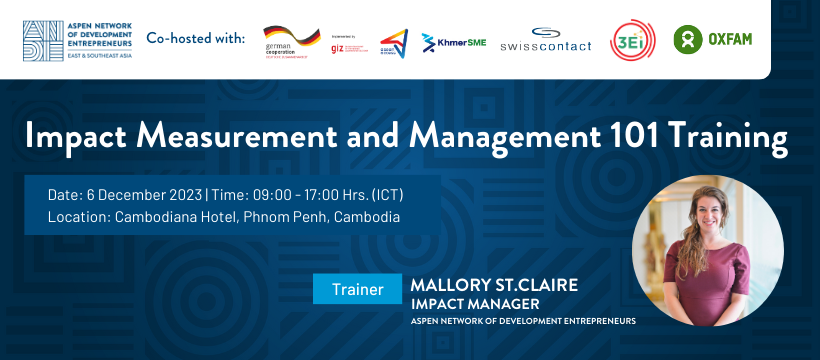 ANDE East and Southeast Asia is thrilled to invite you to our upcoming "Impact Measurement and Management 101 Training", co-hosted with GIZ, KhmerSME, ASEAN Access, Swisscontact, and Oxfam. Whether you're an aspiring social entrepreneur, a nonprofit leader, a business professional, or anyone interested in creating positive change, this event is designed to equip you with the knowledge and tools you need to monitor and manage a lasting impact.
📅 Date: 6 December 2023
📍 Location: Cambodiana Hotel, Phnom Penh, Cambodia
🕒 Time: 9:00 – 17:00 Hrs.
Why attend?:
Gain a deeper understanding of impact measurement and management concepts.

Learn how to use the tools to effectively track and communicate your organization's social and environmental impact.

Discover best practices and real-world examples and connect with a community of professionals passionate about making a positive difference.
Registration Details:
Space is limited and it's on first come first serve basis. To secure your spot, 
For ANDE Members:

We are limiting one representative per organization joining this training free of charge. If any extra person(s) from your organization wants to attend the training, please kindly register with 50% off the 40 USD ticket price.

For Members or Partners of ANDE, GIZ, Swisscontact, and Oxfam:

please

enjoy 50% off the 40 USD ticket price. Please email your point of contact for a discount code.

For Early Bird Non-members: 

please register from 1-7 November 2023

and enjoy 10% off the 40 USD ticket price.

For Regular Non-members:  registration extended to 5 December 2023

with a 40 USD ticket price.
💰 For a discount code,
Friends of ANDE, contact Ploy at ploy.phong@aspeninstitute.org
Friends of GIZ, contact Ms. Kong Daren at daren.kong@giz.de
Friends of Oxfam, contact San Sar at san.sar@oxfam.org
Friends of Swisscontact, contact Naret at sovannaret.mak@swisscontact.org
You will receive a confirmation email with event details and payment receipt (if applicable) once your registration is complete. Please note that lunch and refreshments are included.
If you have any questions or concerns, please feel free to contact us at ploy.phong@aspeninstitute.org or joy.munthamraksa@aspeninstitute.org.
About trainer:
Mallory St.Claire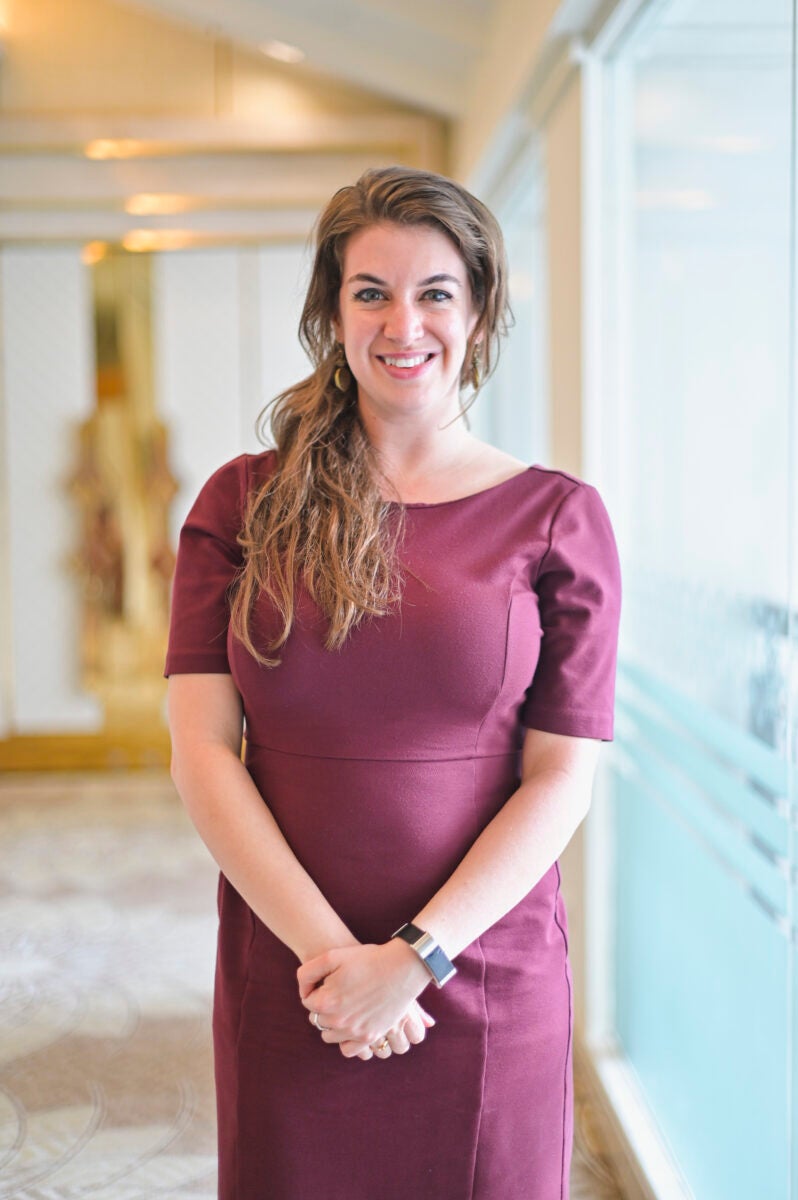 is ANDE's impact manager and has been a part of ANDE's research and impact team since December 2019.  She has a wide breadth of work experience in international development and impact measurement, including working in India, Kenya, and Bangladesh to design and implement monitoring and evaluation projects.  At ANDE, Mallory manages the organization's internal impact measurement systems and project evaluations, consults with ANDE members to support their IMM practices, and works to help improve IMM capacity in the sector.