ANDE Gender Learning Community
The first Learning Community session of 2023 will be at the #MadeInWestAfrica event in Abidjan, Côte d'Ivoire, and will consist of working groups from South Africa and West Africa.
Start Date
February 9, 2023
Location
Abidjan, Côte d'Ivoire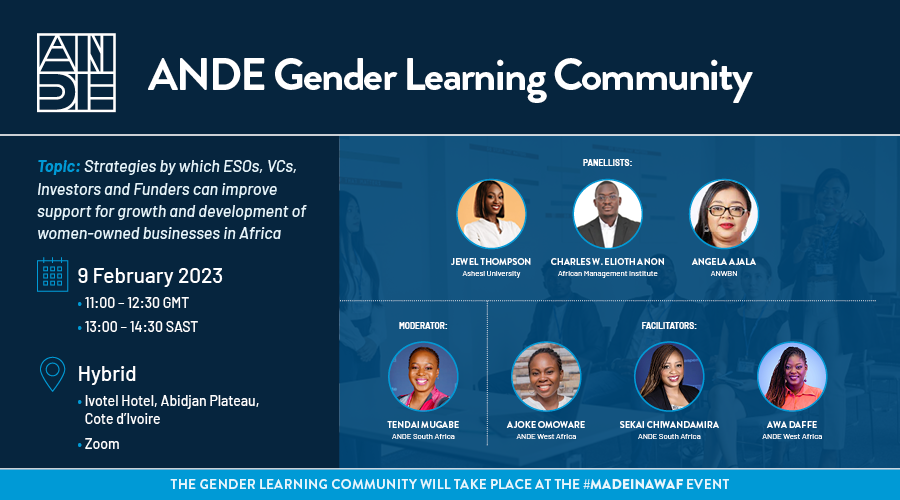 The Aspen Network of Development Entrepreneurs (ANDE) is a global network of organizations that propel entrepreneurship in developing economies. ANDE members provide critical financial, educational, and business support services to small and growing businesses (SGBs) based on the conviction that SGBs create jobs, stimulate long-term economic growth, and produce environmental and social benefits.
As the leading global voice of the SGB sector, ANDE believes that SGBs are a powerful, yet underleveraged tool in addressing social and environmental challenges. Since 2009, we have grown into a trusted network of nearly 300 collaborative members that operate in nearly every developing economy.
In 2022 ANDE began to host Gender Learning Communities. The objective of ANDE's Learning Communities is to create a space for thought leadership, cross learning and is serving as a platform to generate knowledge to advance gender issues, among ANDE awardee alumni, members and stakeholders interested in gender smart approaches.  ANDE chapters have been pairing up to host the learning communities and this learning community consists of two regional cross chapters, consisting of working groups from South Africa and West Africa.
On Thursday 9 February, ANDE will host the first learning community session of 2023, in-person at The Made in West Africa event in Abidjan, Côte d'Ivoire . The side session will be led by ANDE and will consist of a panel discussion which will draw on the experiences of the discussants to examine the effectiveness of ESOs, VCs and Funders in assisting women owned businesses to grow their business, access finance and be investor ready.
Topic:
Topic: Strategies by which ESOs, VCs, Investors and Funders can improve support for growth and development of women-owned businesses in Africa
Speakers:
Jewel Thompson – Lecturer, Entrepreneurship & Innovation – Ashesi University
Charles W. Elioth Anon – Country Lead, African Management Institute
Angela Ajala – National Coordinator, ANWBN | Education Entrepreneur and Coach
Tendai Mugabe – Program Manager, South Africa, ANDE
Ajoke Omoware – Senior Program Associate, West Africa, ANDE
Sekai Chiwandamira – Regional Chapter Head, South Africa, ANDE
The ANDE Gender Learning Community will take place at the 'Made In West Africa' event.