ANDE ESEA Workshop | Translating between Gender and Finance
Start Date
November 21, 2023
Time
09:00 - 04:00 p.m. (ICT)
Location
Bangkok , Thailand
Join us in Bangkok for an exclusive in-person TRANSLATION workshop, translating between gender and finance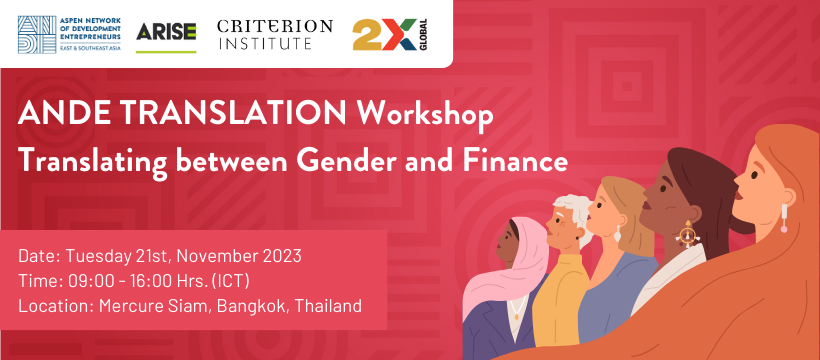 The Aspen Network of Development Entrepreneurs East and Southeast Asia Chapter in partnership with Criterion Institute invites you to join us for a TRANSLATION workshop designed to deepen the ability of those working on gender equality to use finance as a social change strategy. A part of the Advancing Research and Investment Standards for Gender Equity (ARISE) project,  in consortium with the Criterion Institute and 2X Global, the TRANSLATION workshop, taking place on Tuesday 21th November 2023 in Bangkok, Thailand,  will equip participants to translate their knowledge, data sets, and expertise on gender equality to the language of finance.

Tentative Agenda:
20 November
PM – Welcoming and networking reception
21 November
AM – Introductions: why translation? & who's the translator?
        – Seeing and shifting power – power dynamic in finance at play
        – 5 Strategies for using finance as a strategy to create social change
PM  – Strategy 1: Invest in opportunities
        – Strategy 2: Assign value in a market
        – Strategy 3: Facilitate movement of capital
        – Strategy 4: Manage the business of investing
        – Strategy 5: Diversify a portfolio
        – Reflections & Wrap up
Whether you are an advocate in a women's rights organization, a community development facilitator in a nonprofit organization, a feminist movement actor, or a gender mainstreaming advisor within a donor agency, this TRANSLATION workshop is designed to help you unpack finance systems while simultaneously exploring possibilities of how you might use systems of finance as a tool to advance gender equality goals. Regardless of your starting place, experience, or comfort with finance, you will find that the TRANSLATION workshop creates a much-needed bridge between gender equality actors and the world of finance.
This is a unique opportunity to expand your financial imagination and explore possibilities for using finance to advance gender equality goals. You will leave this workshop with a new understanding of your power to influence finance and use the system as a tool that contributes to the change you'd like to see in the world.
Registration: 
If you would like to participate in this workshop, you must register by completing this FORM by COB Friday 10th November 2023. Please be noted that seats are limited and the workshop intends to allocate one seat per organization only.
ANDE will be funding participants' training expenses including 1-night accommodation on Monday 20th November 2023 at the Mercure Bangkok Siam and meals during the training. Please be noted that participants will be required to cover their own travel expenses to and within Bangkok.
We look forward to seeing you in Bangkok!
ANDE East and Southeast Asia Team