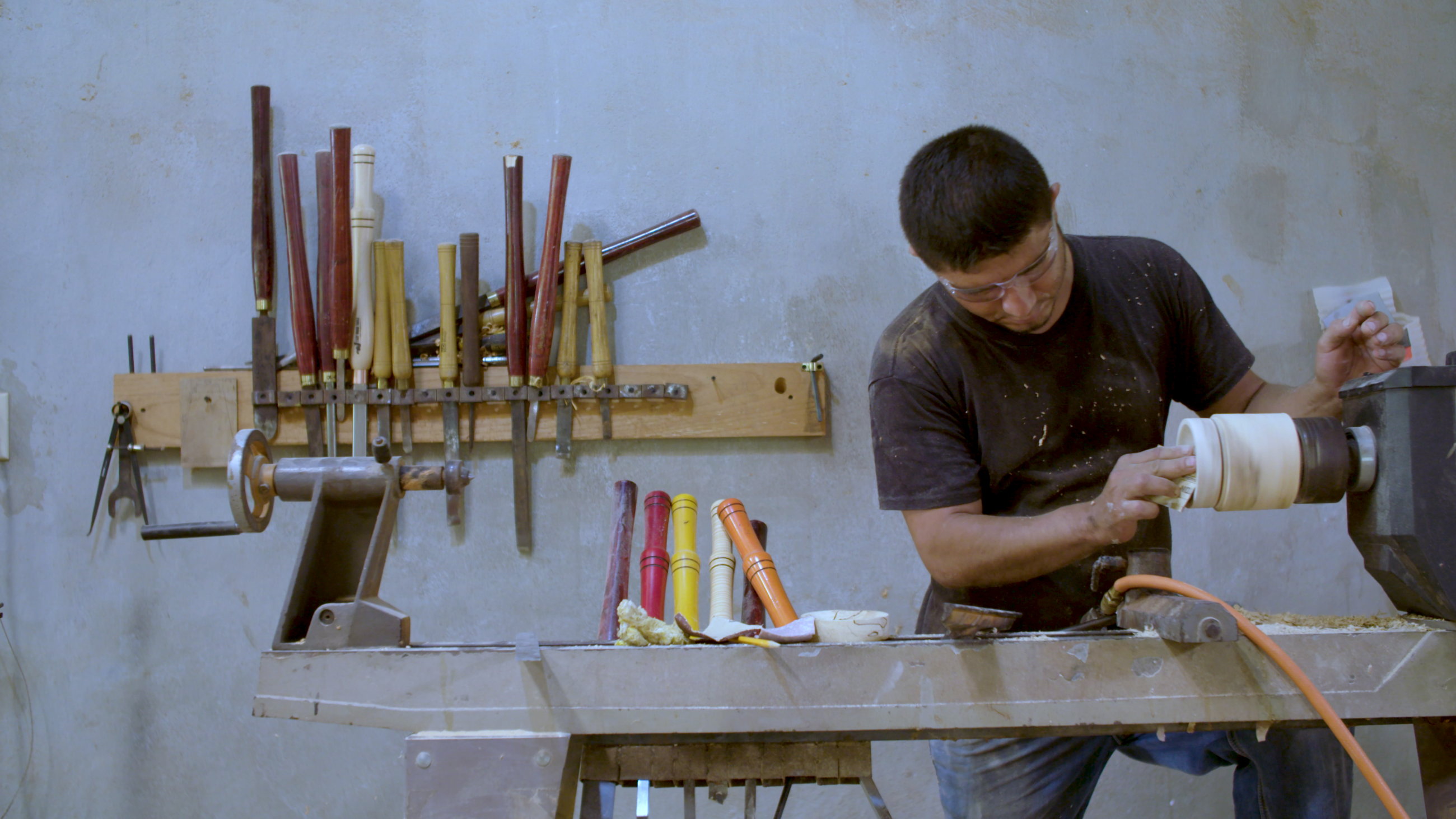 Supporting the growth and development of the SGB sector.
From trainings and workshops to a robust library of evidence and guidance, convening spaces for practitioners, and regular funding opportunities, ANDE aims to equip the sector with the resources it needs to support SGBs.
COVID-19 and the SGB Sector
Given the importance of SGBs to economic growth and job creation, supporting these businesses must be a critical part of the global recovery. To support our members and the overall SGB sector during the ongoing crisis, ANDE is working to understand and meet our members' evolving needs, providing relevant resources and a platform for sharing adaptation strategies.
See COVID-19 Resources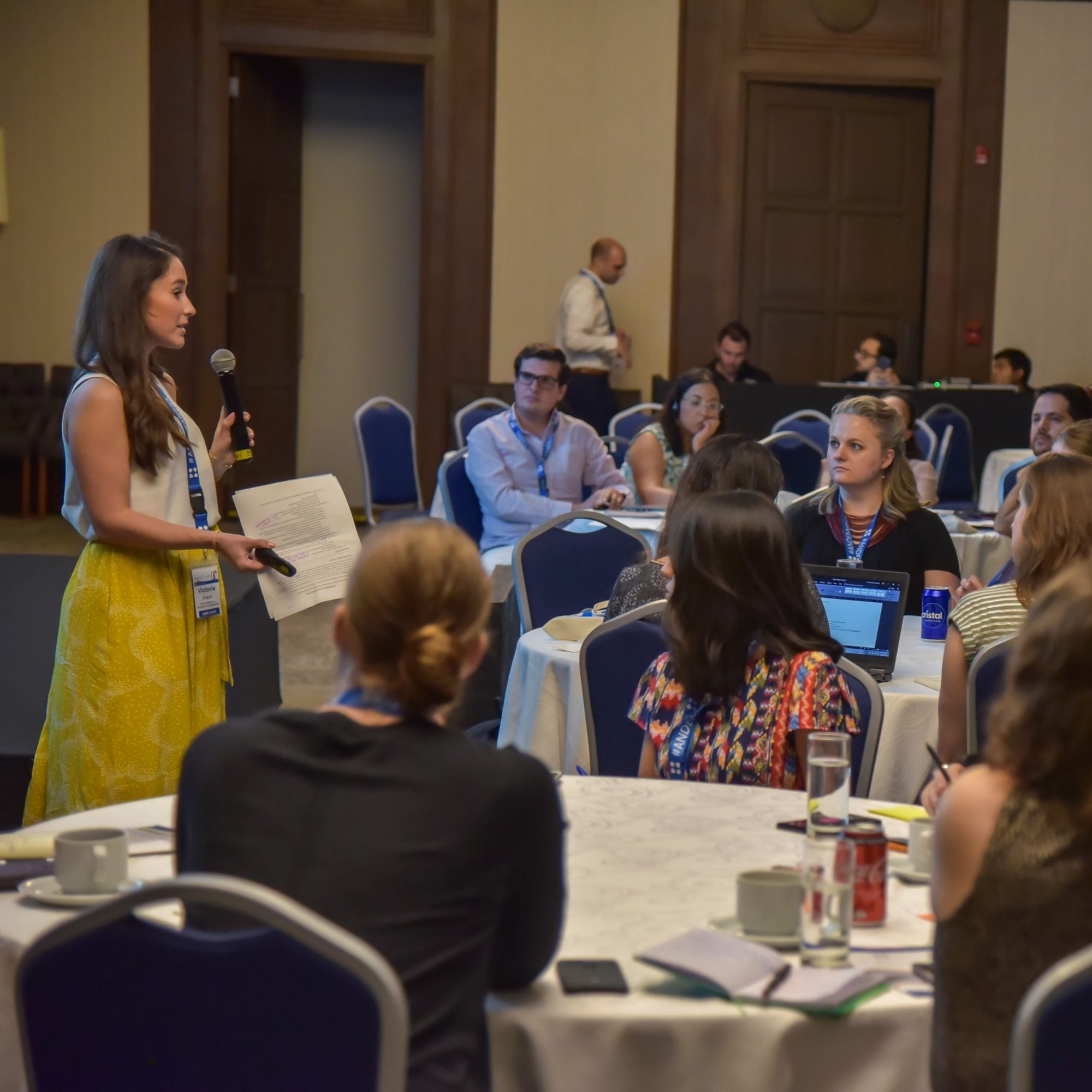 Research
ANDE conducts and supports research to answer critical questions for practitioners and funders in the SGB sector. Our Global Accelerator Learning Initiative, Knowledge Hub, SGB Evidence Fund, flagship publications including our State of the Sector reports and ecosystem snapshots, and other research activities fill knowledge gaps for SGB support organizations.
Funding
ANDE partners with donors to provide several funding opportunities to drive greater resources to organizations supporting SGBs in the developing world and ensure member expertise is leveraged efficiently. The funding is meant to spur more creative and collaborative investments in SGBs and uncover how SGBs contribute to achieving the sustainable development goals.
Groups
ANDE's groups, including Learning Labs and Action Labs, are neutral convening spaces for diverse practitioners to share best practices and new research, discuss hot topics, and learn from one another. They also offer a venue for joint research or action on key issues. Most are open only to ANDE members.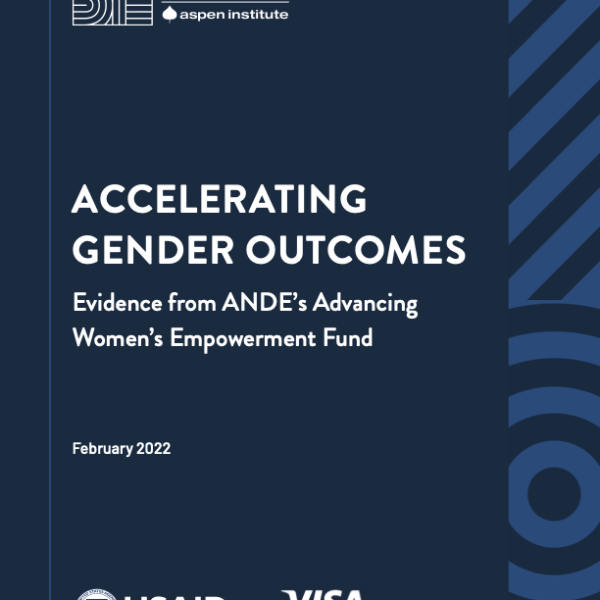 "The Aspen Network of Development Entrepreneurs (ANDE) launched the Advancing Women's Empowerment Fund (AWEF) in 2019 with support from the Visa Foundation and the United States Agency for International Development (USAID). The overall goal of AWEF-funded projects is to address the gender financing gap for women-owned small and growing businesses (SGBs) in developing economies. The first round of grantmaking, AWEF Asia, funded eight entrepreneur support organizations (ESOs) in Cambodia, Vietnam, Myanmar, the Philippines, Pakistan, and India, as well as programs serving the region as a whole. This report summarizes the lessons learned from these grants."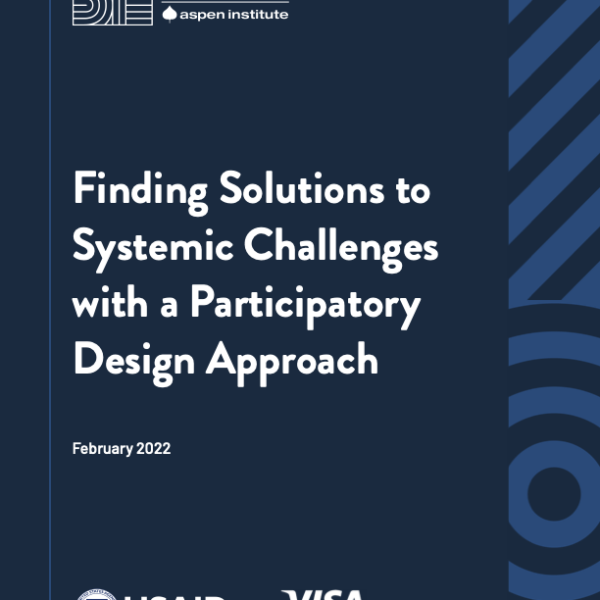 "In 2019, ANDE announced an exciting partnership with USAID and the Visa Foundation to launch the ANDE Gender Equality Initiative (AGEI), which aims to support women as leaders, employees, and consumers in the emerging market SGB sector. As a pilot project under AGEI, each of ANDE's eight regional chapters hosted a 9-12 month Gender Equality Action Lab. ANDE's Action Lab uses a participatory design process in which a group of regional stakeholders, with deep and diverse experience and expertise on an issue, gather to define problems and then create and test potential solutions together."
"The report "Impact Investments in Brazil – 2020", carried out by ANDE in partnership with the Aliança por Investimentos e Negócios de Impacto, Instituto Clima e Sociedade, Fundação Grupo Boticário and with the support of Wright Capital, captures the characteristics of the sector of impact investing in Brazil in the year 2020, based on a sample of 38 impact investors active in the region. The report provides an overview of where and how capital is being allocated and identifies the challenges facing the ecosystem, as well as addressing topics such as gender equity and assessing climate risks and opportunities for portfolios."


June 6, 2022
The ANDE Investment Manager Training course is the only course of its kind which provides a comprehensive overview of investing in small and growing businesses.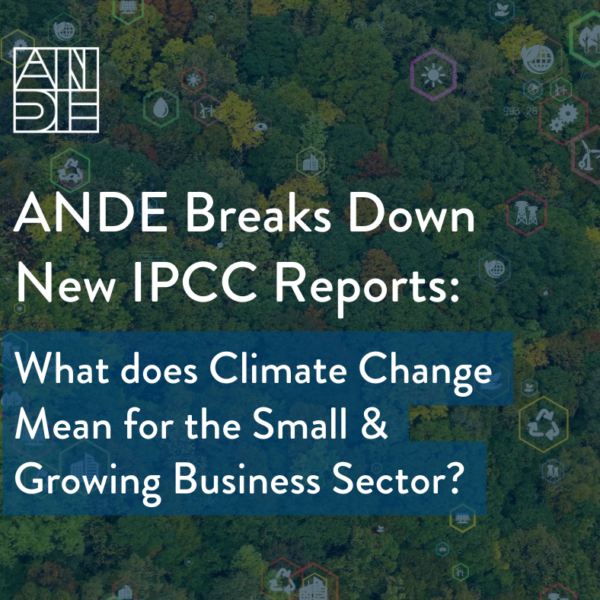 Read ANDE's break-down of recent IPCC reports to find out why SGB's should be at the center of the global fight against climate change.
Project Kirana is currently training 3,000 women shop owners and managers in the cities of Lucknow and Kanpur, working to optimize business operations and leverage digital and financial tools to improve decision-making, personal agency, and revenue. 
ANDE spoke with GameChanger Law Advisors (GLA) founder Amrut Joshi to discuss how GLA is ensuring that good corporate governance standards remain at the forefront of the agenda of boardrooms all over the world, helping those companies contribute to sustainable development in the geographies in which they work.

Career Center
ANDE's Career Center features job postings from ANDE members, the SGBs they support, and other stakeholders in the social sector.
See openings