Empowering SGBs: A Sustainable Vision from the Annual Conference
ANDE's Global Conference in Accra highlighted the crucial role of small and growing businesses in meeting the UN SDGs by 2030, stressing the imperative for collaborative efforts to build viable business ecosystems and promote innovative financing to address the estimated $5.2 trillion financing gap for entrepreneurs to grow and succeed in the Global South.
---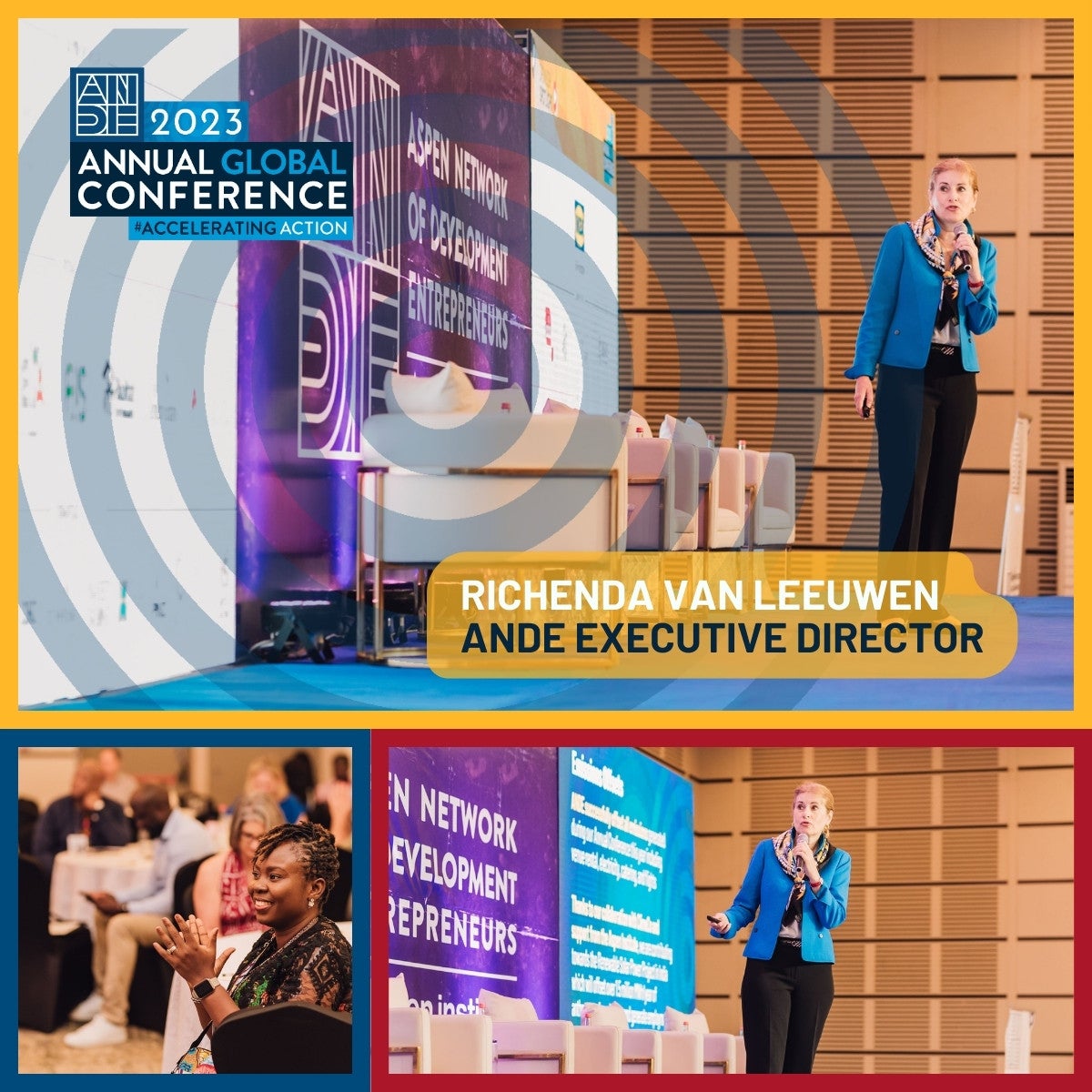 Accra was buzzing with the energy of innovation and collaboration. The ANDE Annual Global Conference, hosted in the heart of Ghana's capital, marked a milestone toward the realization of the UN's 2030 Sustainable Development Goals (SDGs). Its profound and immensely consequential message? The fate of these goals rests heavily on the shoulders of small and growing businesses.
The conference, strategically scheduled ahead of the UN General Assembly in New York and the SDG Summit, sought to find business solutions for the monumental estimated annual financing gap of $5.2 trillion for small businesses in developing nations. The International Finance Corporation (IFC) points out the shortfall affects 65 million firms or 40% of formal micro, small, and medium enterprises.
"We know that achieving the SDGs could open up $12 trillion of market opportunities and create 380 million new jobs by 2030. We cannot wait any longer," was Charles Abani, the United Nations Resident Coordinator in Ghana, passionate appeal. "The SDGs will fail without the private sector and innovation."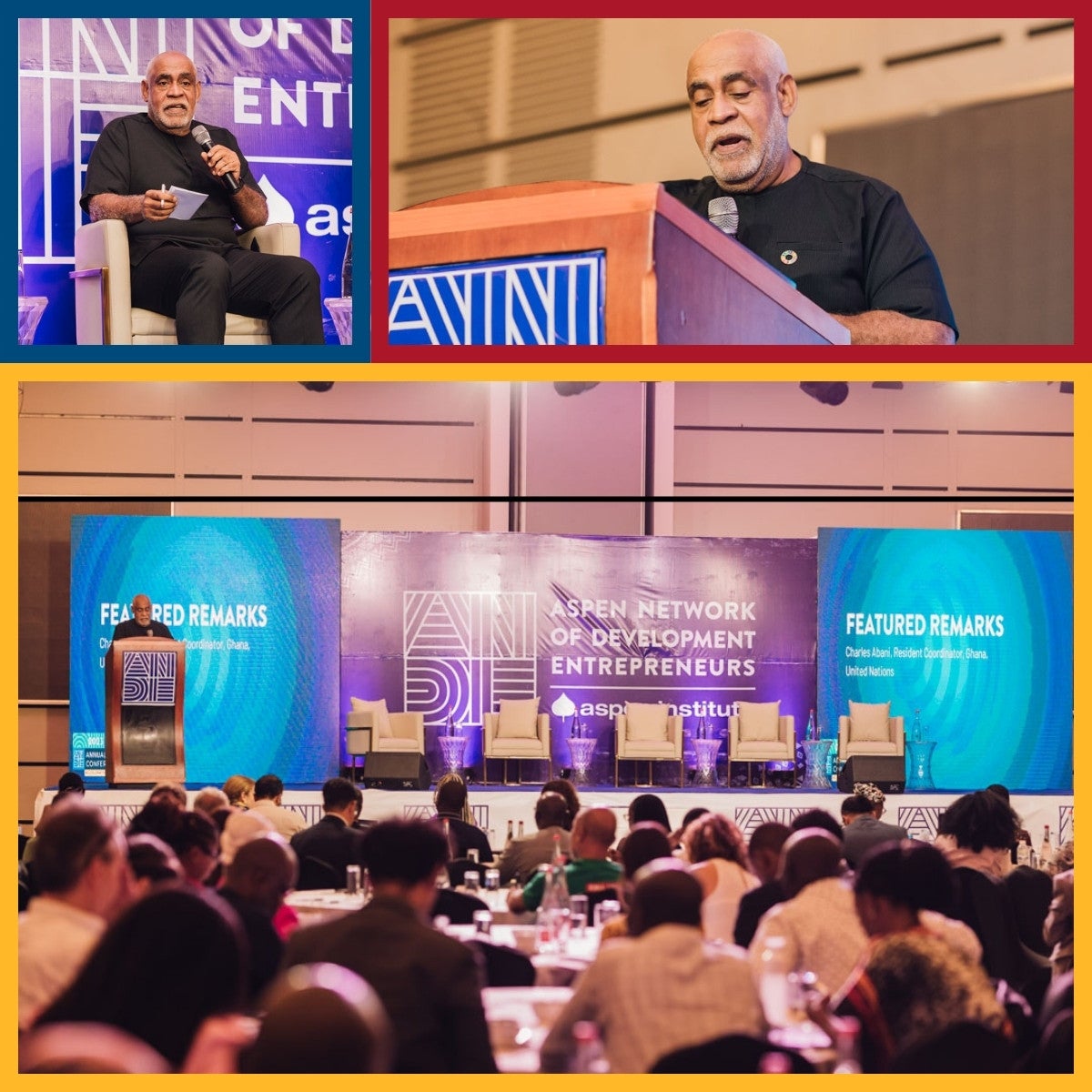 The significance of the private sector for development cannot be emphasized enough. ANDE is at the forefront, fostering partnerships with Financial Institutions, governments, ESG initiatives, and entrepreneurial support organizations, endeavoring to bridge the glaring funding and resource gap for emerging business enterprises in the Global South.
We cannot emphasize enough the significance of the private sector for development. ANDE's members are at the forefront of this work, supporting entrepreneurs across many countries. They are focused on providing the tools, business planning, mentoring, capacity development, and, importantly, the right type of financing in the right amount and at the right time they need to succeed.
Many of these ANDE members are themselves small enterprises or non-profits providing incubation and acceleration services as well as broad-based enterprise support and also need sustainable financial support in turn to succeed.  
ANDE's Executive Director, Richenda Van Leeuwen, stressed the gravity of the role of small businesses. "Small businesses make up the vast majority of the private sector in the Global South and across the world. They have a critical role to play in helping communities and countries deliver results to advance progress on the SDGs," she said in her opening remarks.
It was a sentiment echoed, albeit remotely, by Muhammad Yunus, Nobel Prize Laureate and founder of Grameen Bank. Yunus was the surprise guest at the conference opening, addressing participants via video and advocating for a world of "Zero global warming, zero poverty, and zero unemployment."
---
Watch Muhammad Yunus's speech.
---
But what was most poignant about this gathering was the shared realization of the importance of collective action so no one is left behind. As Gigi Mathews, Enviu's India Director, highlighted, "Collaboration is the essential driving force behind this transformative agenda."
Or as Maame Awinador-Kanyirige from the Embassy of the Kingdom of the Netherlands to Ghana rightly pointed out, collaboration and innovative financial models are the way forward, always recognizing "that policies are not made for people but with people."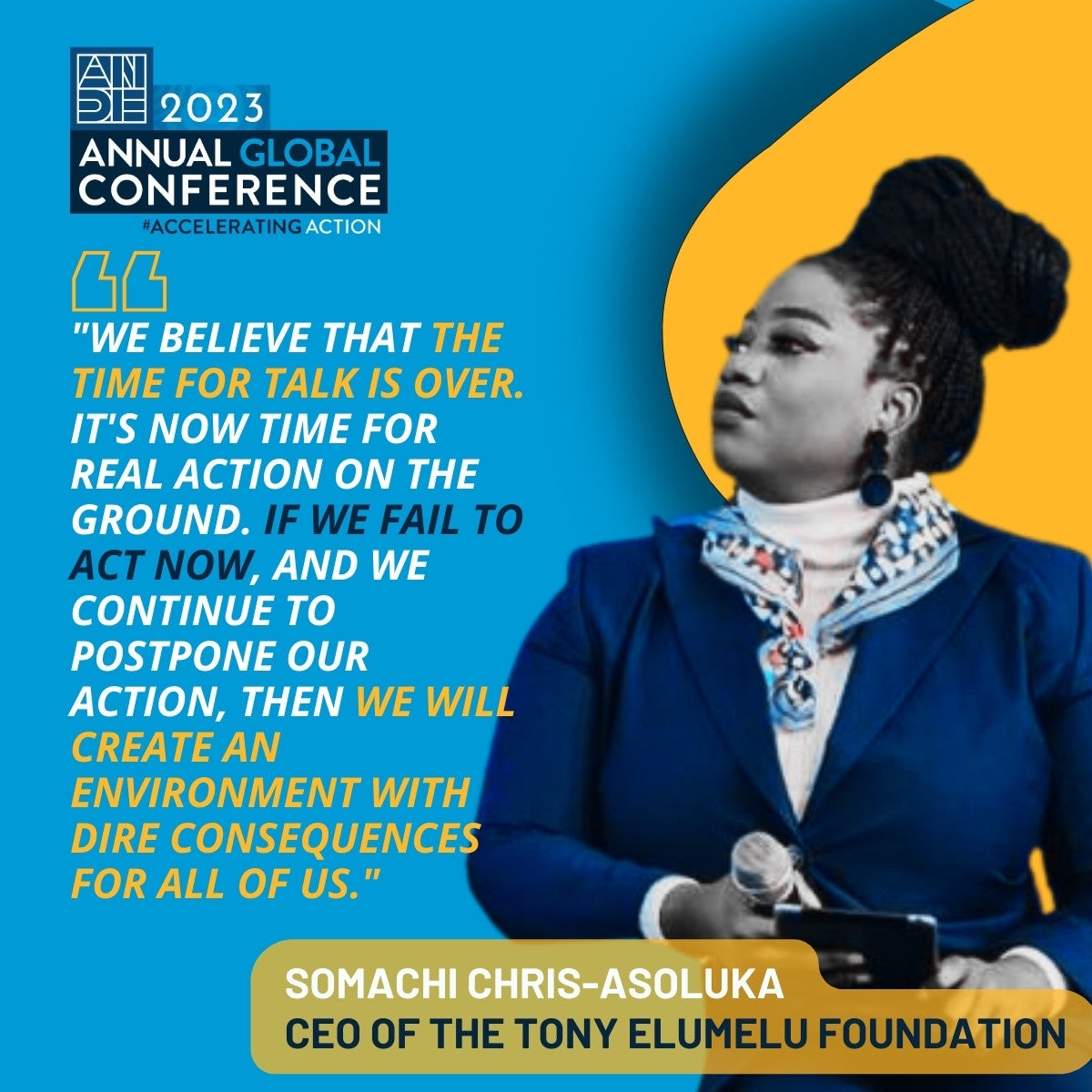 Somachi Chris-Asoluka, CEO of the Tony Elumelu Foundation and a  keynote conference speaker, also underscored this human factor. She captured the spirit of the entrepreneurial zeal, particularly in Africa, saying, "In all corners of our continent are ordinary people doing extraordinary things." A powerful reminder that innovation is flourishing in Africa, and the world would do well to support it across the continent.
Also, British High Commissioner to Ghana and Togo and Ambassador to Bénin, Harriet Thompson, signaled that British International Investment's pledge of a $50 million fund to support Ghanaian SGBs reflects this ethos of collaborative growth and innovation.
"The very best champions for a country's growth are its businesses, both big and small." UK Ambassador Harriet Thompson 
And by "the world," we should mean investors and financial institutions, "both big and small." For example, British High Commissioner to Ghana and Togo and Ambassador to Bénin, Harriet Thompson, signaled that British International Investment's pledge of a $50 million fund to support Ghanaian SGBs reflects this ethos of collaborative growth and innovation.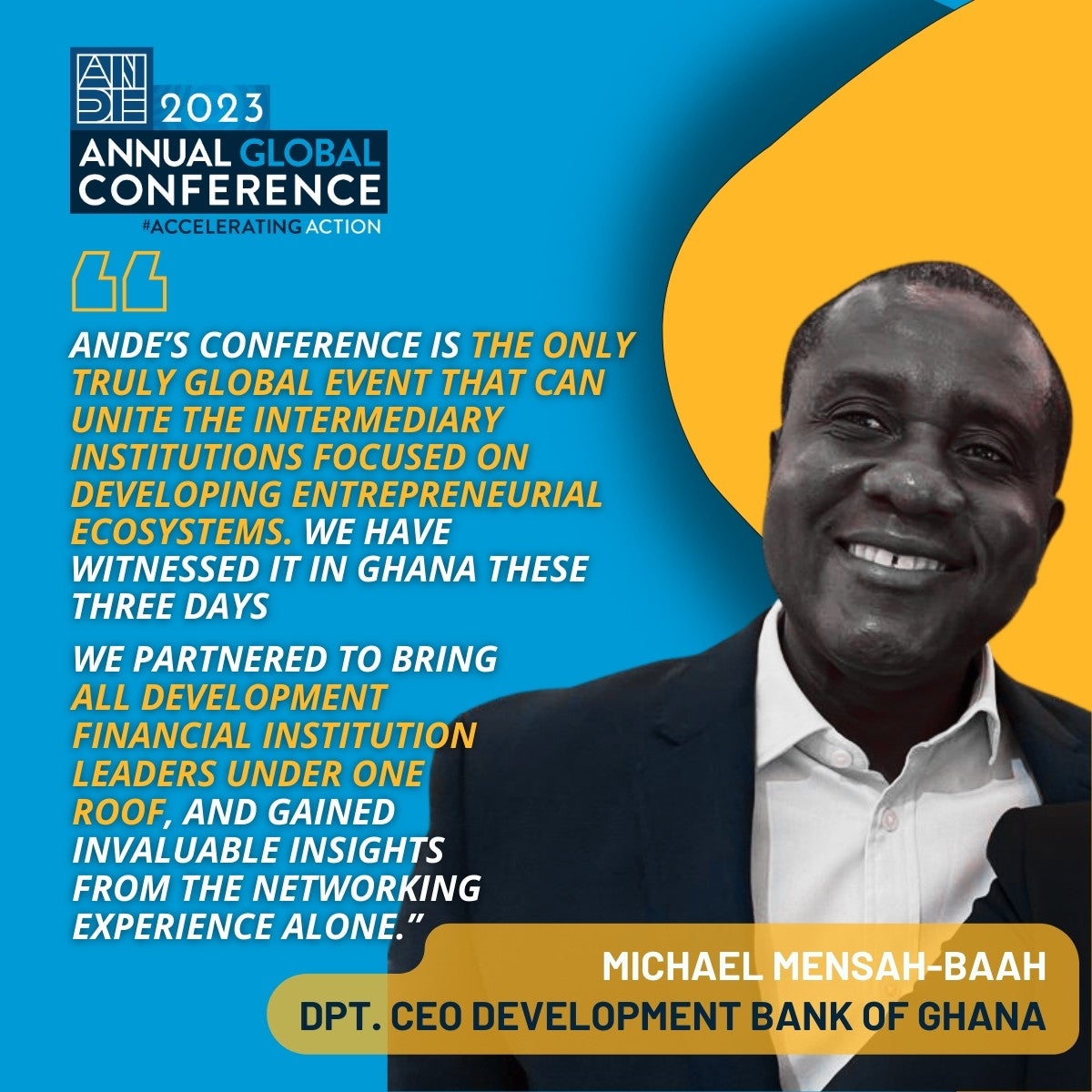 The Development Financial Institutions (DFI) Convening was another testament to this collaborative spirit. Michael Mensah-Baah, Deputy CEO of DBG, hailed the ANDE Conference as a uniting force for intermediary institutions.
Yet, the conference was about more than just financing and business. It was about human connection. Members, speakers, and prominent guests again experienced the unique value of in-person events.
Networking, sharing food, and good music were essential to the experience. Not least because Trigmatic, the renowned Ghanaian musician, philanthropist, and entrepreneurship advocate, delighted everyone with his talents.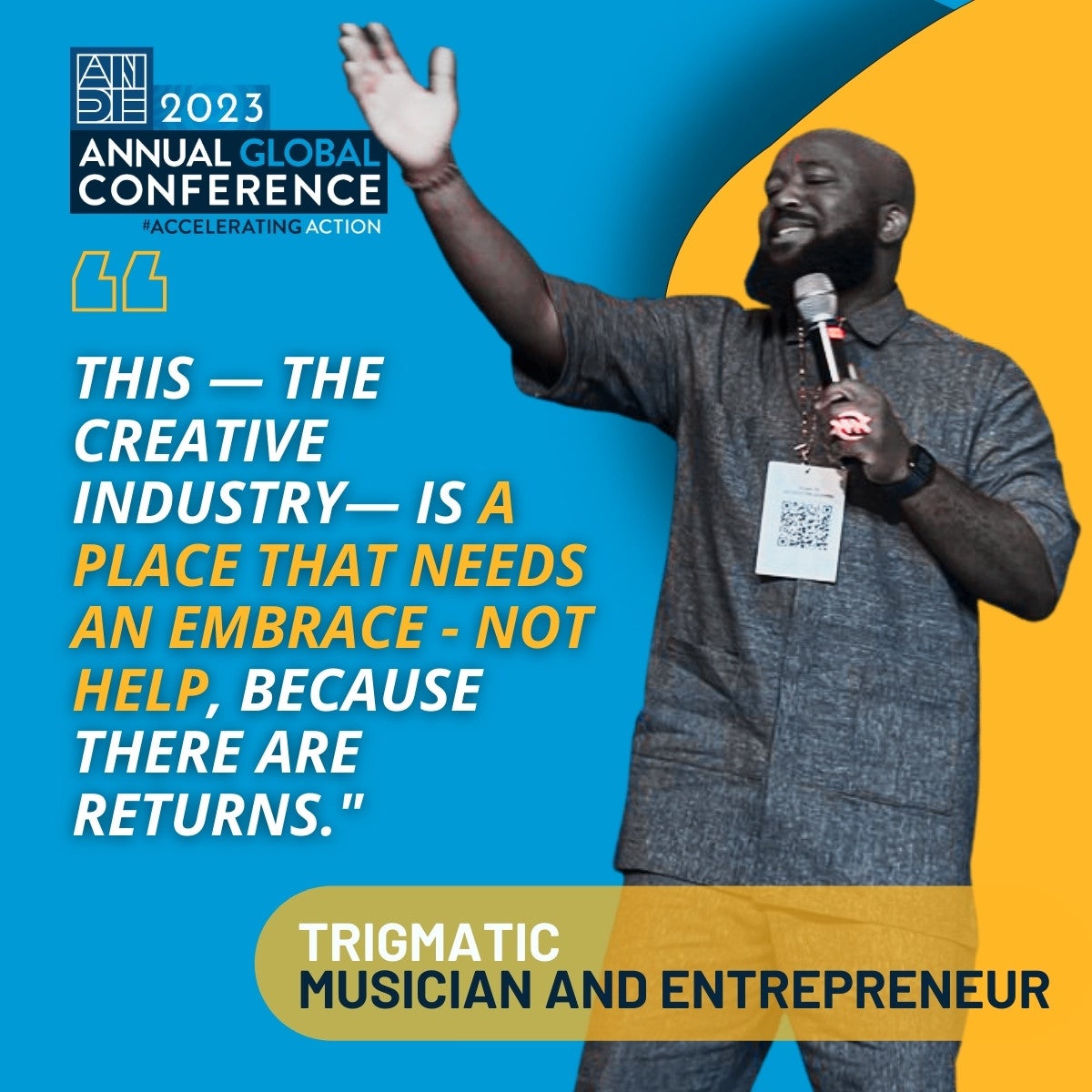 Trigmatic (Enoch Nana Yaw Oduro-Agyei) provided an inspirational address on the vast potential of the creative industries and for investing in African music, highlighting its impressive 34.7% revenue growth.
Conference feedback showed that participants gained immensely from the rich and diverse insights shared during the sessions. The consensus? The conference was not just an event but a watershed moment, a "catalyst for change," as Tendai Angeline Mugabe from ANDE's Southern Africa Chapter so aptly put it.
Ghana's Minister of Information, Kojo Oppong Nkrumah, was another prominent speaker. On the second day, Mr. Oppong focused on the importance of purpose in life, saying: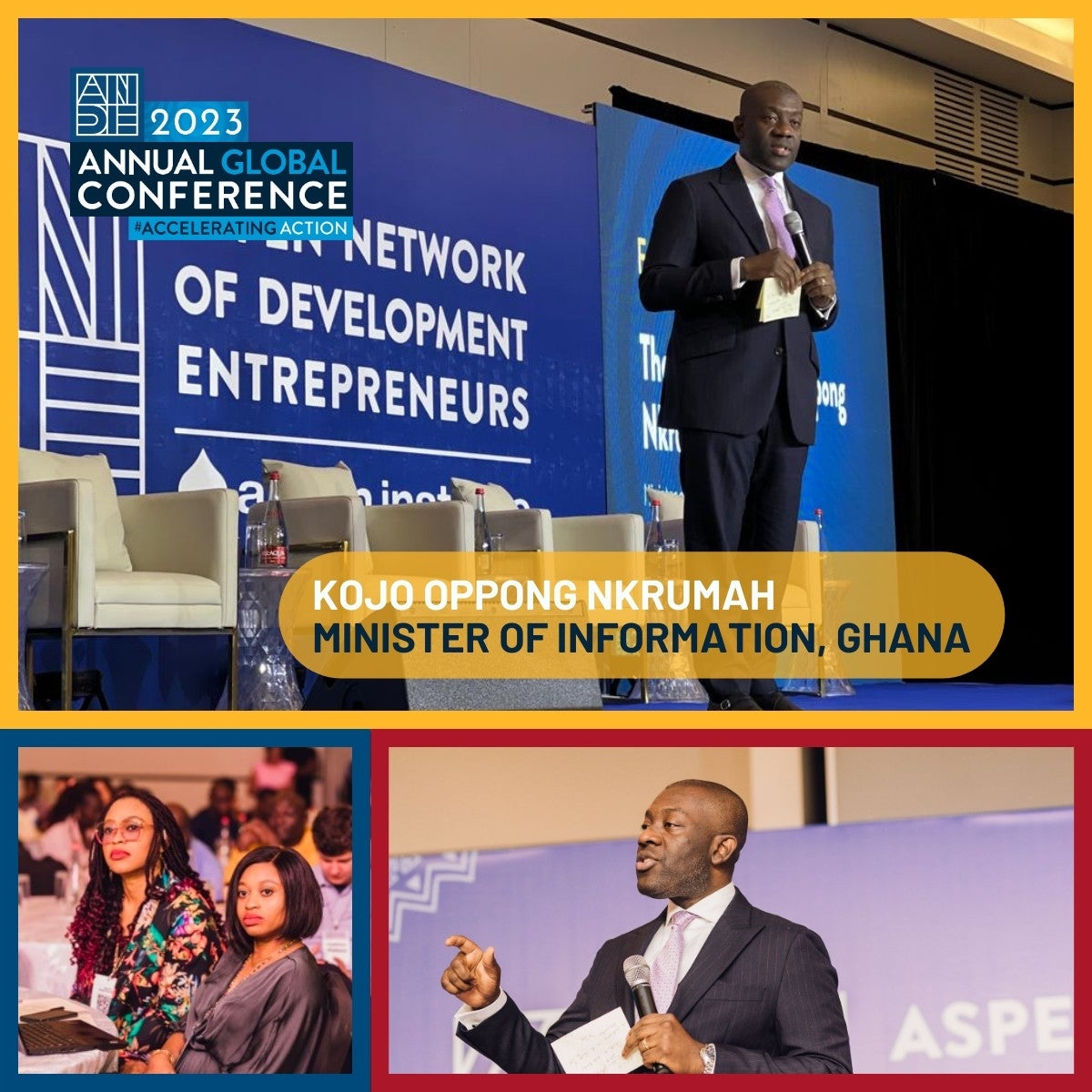 "Let us ask ourselves what answer we are giving to society regarding how what we are doing is solving the challenges around us. When we begin to rethink purpose, we will begin to re-examine our methods. Let us ensure our governance frameworks reflect ESG (Environmental, social, and governance)."
"I've been attending ANDE Conferences for over 10 years, and it's delightful to find that this one in Ghana, West Africa, it has given it a whole different flavor in terms of the diversity of participation, which is very strong and powerful. It's a good signal for what ANDE stands, particularly for supporting local providers with investment in SGBs," said Nicholas Colloff, Executive Director at Argidius Foundation. 
Allie Burns, CEO of Village Capital, reflecting on her experience in Accra, recognized that  we've come a long way in building networks and capacity for entrepreneur support organizations (ESOs).
As the world hurtles towards 2030, let the spirit of ANDE's 2023 Global Conference serve as a reminder. Collaboration, innovation, and action are not just buzzwords. They are imperatives, the tools we need to make the world a better place. RS