Laboratorio de Aprendizaje de Digitalización
El Laboratorio de Aprendizaje de Digitalización de ANDE es una serie de sesiones globales para apoyar la digitalización del sector de las PEC facilitando el intercambio de conocimientos entre los profesionales miembros de ANDE y evaluando las necesidades de los mismos.
La pandemia de COVID-19 ha acelerado el movimiento hacia la digitalización para muchas pequeñas empresas en crecimiento (PEC) y los intermediarios que las apoyan. Lo que se ha convertido en una palabra de moda el año pasado, ha sido en realidad un trayecto que requirió que las organizaciones superaran numerosos desafíos y trabajarán para transformar procesos y servicios. En ANDE, nuestro objetivo es aprender y apoyar a los intermediarios y PEC a medida que descubren lo que significa la digitalización para sus organizaciones.
 Con el apoyo de Accenture Development Partnerships en el diseño general, los capítulos de ANDE en América Central y México, la región Andina y Brasil colaboran en conjunto para llevar a los miembros de ANDE la información más adecuada para los procesos de transformación digital que enfrentan los intermediarios ante el contexto de la región.
Adicionalmente se organiza un evento durante el mes de agosto de 2021 en el que habrá proveedores de servicios y herramientas digitales que complementará a los laboratorios.
 Los laboratorios de aprendizaje de digitalización de ANDE son parte del Global Inclusive Growth Partnership (GIGP), una colaboración entre el Aspen Institute y el Mastercard Center for Inclusive Growth. 
Materiales del laboratorio de aprendizaje desarrollados por Accenture.
Punto de contacto ANDE: Rodrigo Morales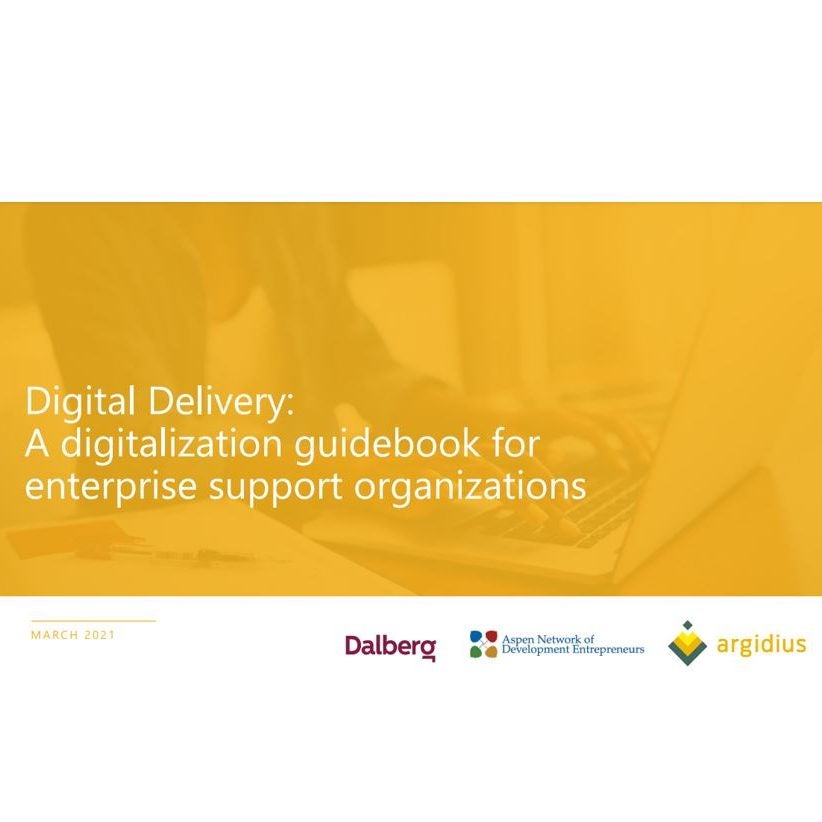 "This document is a strategic guidebook developed by Argidius Foundation and Dalberg Advisors to support business development services (BDS) providers to successfully adopt digital practices and tools. It explores current practices and opportunities across the landscape to guide BDS providers in using digital technologies to provide services to entrepreneurs in an effective and inclusive way."
Last year, the pandemic made the ability to shift operations online even more pressing, and often a matter of business survival. Digitalization is crucial to provide support to entrepreneurs globally through training, mentorship, networking opportunities and other services.
The COVID-9 pandemic accelerated a worldwide trend toward digitizing business advisory, coaching, training, and technical assistance services for small and growing businesses (SGBs). A recent ANDE survey of 30 enterprise support providers found the average share of digital services jumped from 24 percent pre-pandemic to 72 percent at the end of 2020.