Laboratório de Aprendizagem de Digitalização
O Laboratório de Aprendizagem de Digitalização da ANDE é uma série de sessões para apoiar a digitalização do setor de Pequenas Empresas em Crescimento (SGBs), facilitando a troca de conhecimento entre os profissionais membros da ANDE e avaliando suas necessidades.
Este conteúdo também está disponível em: English
A pandemia COVID-19 acelerou o movimento em direção à digitalização para muitas pequenas empresas de crescimento (SGBs) e os intermediários que as apoiam. O que se tornou uma palavra da moda no ano passado foi, na verdade, uma jornada que exigiu que as organizações superassem inúmeros desafios e trabalhassem para transformar processos e serviços. Na ANDE, nosso objetivo é aprender e apoiar intermediários e SGBs conforme eles descobrem o que a digitalização significa para suas organizações.
 Com o apoio da Accenture Development Partnerships no projeto, os escritórios regionais da ANDE da América Central e no México, da Região Andina e do Brasil colaboram para trazer aos membros da ANDE as informações mais adequadas para os processos de transformação digital enfrentados pelos intermediários no contexto da região . Além disso, será organizado um evento durante o mês de agosto de 2021 no qual haverá prestadores de serviços e ferramentas digitais que complementarão os laboratórios.
 Os Laboratórios de Aprendizagem de Digitalização da ANDE fazem parte da Global Inclusive Growth Partnership (GIGP), uma colaboração entre o Aspen Institute e o Mastercard Center for Inclusive Growth.
Contato: Rodrigo Morales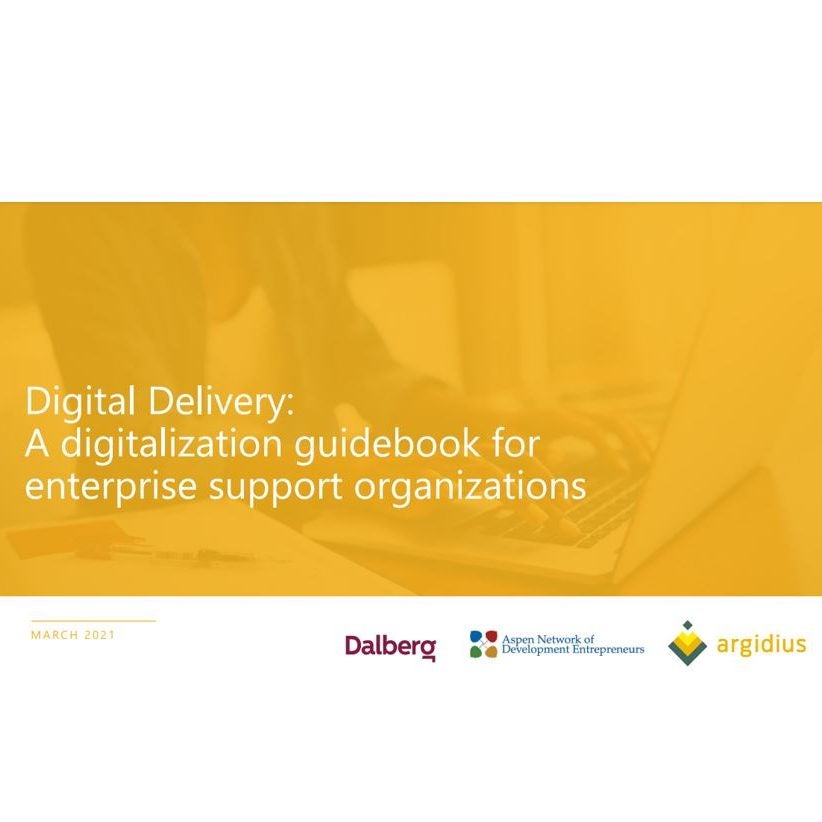 "This document is a strategic guidebook developed by Argidius Foundation and Dalberg Advisors to support business development services (BDS) providers to successfully adopt digital practices and tools. It explores current practices and opportunities across the landscape to guide BDS providers in using digital technologies to provide services to entrepreneurs in an effective and inclusive way."
Last year, the pandemic made the ability to shift operations online even more pressing, and often a matter of business survival. Digitalization is crucial to provide support to entrepreneurs globally through training, mentorship, networking opportunities and other services.
The COVID-9 pandemic accelerated a worldwide trend toward digitizing business advisory, coaching, training, and technical assistance services for small and growing businesses (SGBs). A recent ANDE survey of 30 enterprise support providers found the average share of digital services jumped from 24 percent pre-pandemic to 72 percent at the end of 2020.