Digitalization Learning Lab
ANDE's Digitalization Learning Labs are a series of global workshops to support the digitalization of the SGB sector by facilitating knowledge exchange among practitioners and assessing the needs of intermediaries.
The COVID-19 pandemic has accelerated the movement towards digitalization for many SGBs and the intermediaries that support them. What has become a buzzword in the past year, has been in reality a journey that required organizations to overcome numerous challenges and work to transform processes and services, almost overnight. At ANDE we aim to learn and support intermediaries and SGBs as they figure out what digitalization means for their organizations.
With support from Accenture Development Partnerships on overall design, ANDE India will convene 3-4 learning lab sessions throughout the year, in which members and partners can connect and discuss key learnings and challenges around the digitalization processes, with respect to their own systems and processes as intermediaries as well as in their support to SGBs' digital transformation. 
In addition to the learning lab sessions, we will be hosting a matchmaking event where we aim to bring together intermediaries and digitalization service providers in one place to share and garner information that will help intermediaries make informed decisions about their digitalization needs. If you are a service provider and would like to participate in this expo please contact ANDE.
ANDE Digitalization Learning Labs are part of the Global Inclusive Growth Partnership (GIGP), a collaboration between the Aspen Institute and the Mastercard Center for Inclusive Growth. 
ANDE staff contacts: Saipriya Salla and Sucharita Kamath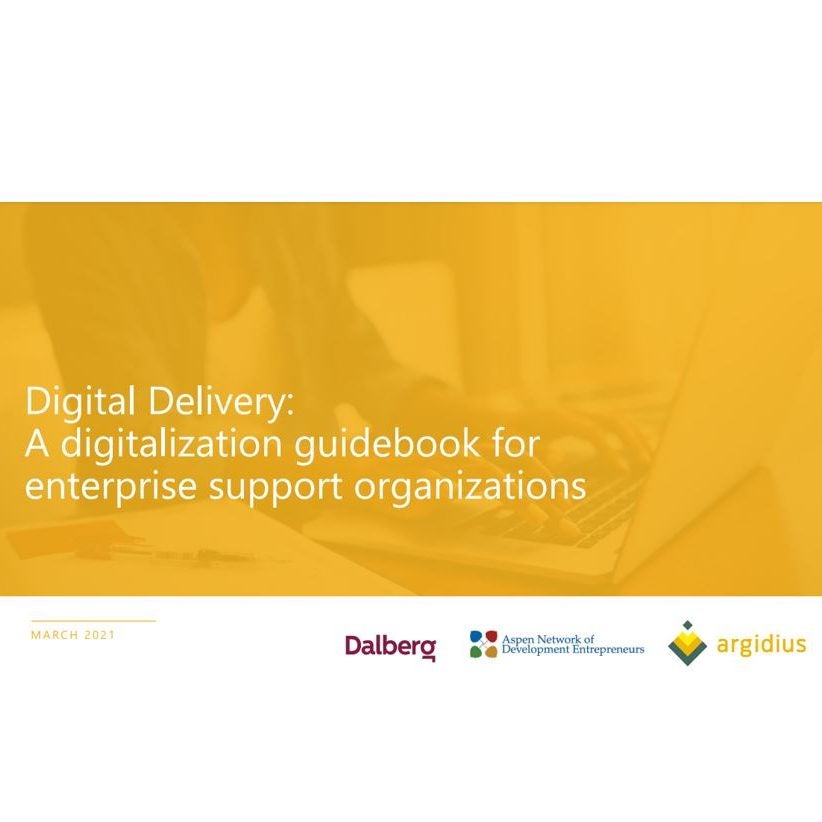 "This document is a strategic guidebook developed by Argidius Foundation and Dalberg Advisors to support business development services (BDS) providers to successfully adopt digital practices and tools. It explores current practices and opportunities across the landscape to guide BDS providers in using digital technologies to provide services to entrepreneurs in an effective and inclusive way."
Last year, the pandemic made the ability to shift operations online even more pressing, and often a matter of business survival. Digitalization is crucial to provide support to entrepreneurs globally through training, mentorship, networking opportunities and other services.
The COVID-9 pandemic accelerated a worldwide trend toward digitizing business advisory, coaching, training, and technical assistance services for small and growing businesses (SGBs). A recent ANDE survey of 30 enterprise support providers found the average share of digital services jumped from 24 percent pre-pandemic to 72 percent at the end of 2020.