Digitalization Learning Lab
ANDE's Digitalization Learning Labs are a series of global workshops to support the digitalization of the SGB sector by facilitating knowledge exchange among practitioners and assessing the needs of intermediaries.
The COVID-19 pandemic has accelerated the movement towards digitalization for many SGBs and the intermediaries that support them. What has become a buzzword in the past year, has been in reality a journey that required organizations to overcome numerous challenges and work to transform processes and services, almost overnight. At ANDE, we aim to learn and support intermediaries and SGBs as they figure out what digitalization means for their organizations.
With support from Accenture Development Partnerships on overall design, ANDE East and Southeast Asia convened webinars, workshops, and a virtual continental service-matchmaking event in coordination with ANDE India. We conducted this learning lab series to discuss challenges and opportunities around digitalization, seek collaborations, and serve as a community for peer-to-peer support to improve the ability of SGBs and intermediaries to accelerate their transition to digital support services and increase accessibility to business support services for SGBs. 
ANDE Digitalization Learning Labs are part of the Global Inclusive Growth Partnership (GIGP), a collaboration between the Aspen Institute and the Mastercard Center for Inclusive Growth. 
ANDE staff contact: Ploy Phongphansathaporn
Learning Lab Session Recaps
05-08-21 ANDE ESEA Digitalization Learning Lab #2 | Know your user – create your offer

The majority of the products and services introduced to the market often face a challenge in acquiring and maintaining their users. To begin the digitalization journey, it is highly recommended that the organization validate the real needs of your potential users.
In our first module of the three Digitalization Learning Lab, we explored the process of segmentation and validate your value proposition against your hypothesis. How? There are a number of tools to visualize this process but do investigate creating your customer journey and business model.
18-08-21 ANDE ESEA Digitalization Learning Lab #3 | Define what you need to deliver digitally
So, what does digital transformation mean to your organization? After knowing the needs, pains, and gains of your customer, the next step is to define what you need both internally and externally to deliver your value. There are stages of digital transformation, and each has its own merit to fit the needs. Choose what best fits your goal – there is no right or wrong.
Our second module dived into digital strategy and capability evaluation in relation to process, resources, and time.
02-09-21 ANDE ESEA Digitalization Learning Lab #4 | Visualize, measure, and iterate your digital strategy
How to govern and align the stakeholders to implement digital projects that lead to transformation?
In the last module, we reorganized the customer journey to map out initiatives in a 'road map'. This roadmap contained agreed-upon prioritized initiatives (against desirability and feasibility as a metric). It is a useful visual document for managing expectations and coordinating efforts.
With the caveat that the roadmap is intended to be a living document, it is a clear representation of how the solution will evolve over time.
28-10-21 ANDE ESEA Digitalization Learning Lab #5 | How to choose the right tools?
As the world evolves and becomes more digital, small and growing businesses (SGBs) and Entrepreneur Support Organizations (ESOs) are transforming to better meet the ever-changing needs. In that process, there are strategic paths to choose from—whether to buy or build the tools. Moreover, there are abundant tools available to explore.
How can ESOs and SGBs navigate through the landscape to be able to choose thenright fit for their transformation? Watch the recording below to hear on-ground examples as well as insights from leaders and implementation experts.
Key Resource
Digitalization Assessment Tool
This assessment tool is designed as a diagnostic for an organization to consider the steps it may need to take on its digitalization journey, and receive recommendations based on answers with further reading on best practices and considerations. The exercise is designed so that as a team, your organization invests 1-2 hours in discussing, answering and selecting the answers according to your characteristics and reality.
The questions in this diagnostic have been designed by Accenture Development Partnerships and are aligned to the framework presented in the report Digital Delivery: A digitalization guidebook for enterprise support organizations by Dalberg and the Argidius Foundation.
Use the tool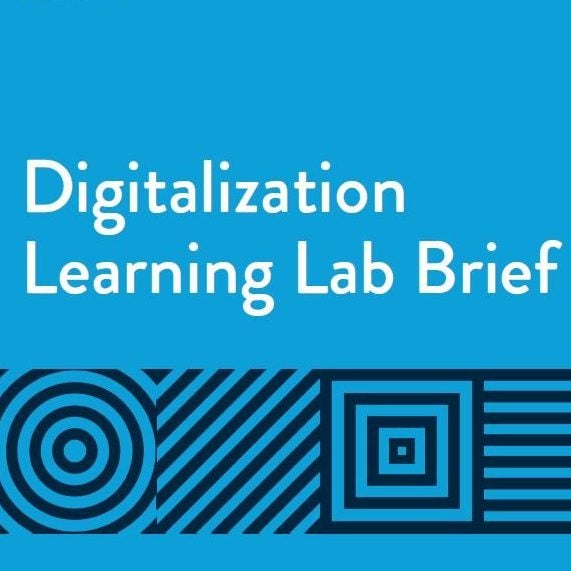 ANDE's Digitalization Learning Labs are a series of convenings that aim to support the digital transformation of the SGB sector by exchanging knowledge among ANDE members and evaluating their needs. This document is divided into the three modules of the Learning Lab sessions that were carried out by ANDE chapters. Each includes the purpose of the stage, the diverse methodologies that support digital transformation, and reflections on how and why to use them, based on the experience of three ANDE members.
"This document is a strategic guidebook developed by Argidius Foundation and Dalberg Advisors to support business development services (BDS) providers to successfully adopt digital practices and tools. It explores current practices and opportunities across the landscape to guide BDS providers in using digital technologies to provide services to entrepreneurs in an effective and inclusive way."
Last year, the pandemic made the ability to shift operations online even more pressing, and often a matter of business survival. Digitalization is crucial to provide support to entrepreneurs globally through training, mentorship, networking opportunities and other services.